ECSU Male Student Retention Program, Champion Scholars, Thrives Despite Distant Learning
---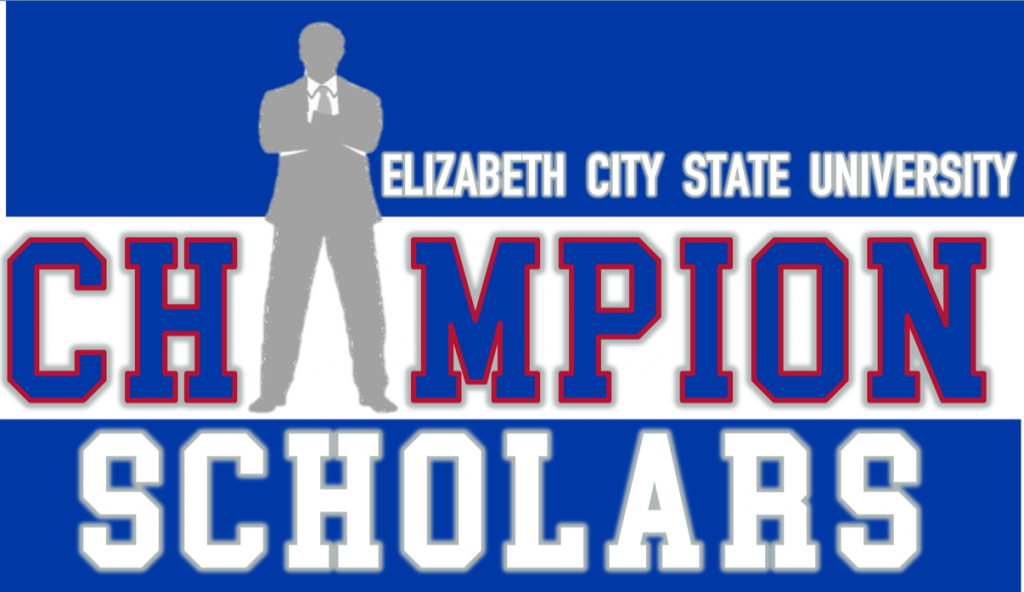 Despite the distant learning protocol as a result of COVID-19, Elizabeth City State University's student retention program, Champion Scholars, is proving to be a boon to male freshmen, and its popularity and success has also spurred the creation of a similar program for young Viking women, according to interim dean of students, Dr. Coray Davis.
"They pushed through," said Dr. Davis of the young men enrolled in the program. "That is the thing that resonated with all of them. As a result, for the academic year, the average GPA for these young men is 3.2."
Champion Scholars began as a pilot program in the fall of 2019. The program initially focused on 25 male freshmen, all living in the same campus residential hall.
According to Dr. Davis, male students typically arrive at a university on an even playing field with female students, but somewhere along the way, they begin to fall behind. He says this program works to give these young men what they need to succeed at ECSU.
The 25 male freshmen chose to all live on the third or fourth floors of University Towers. The building has a meeting space that allows the students to meet and listen to speakers and discuss issues.
Since the program began, students have been active in a number of events and involve themselves with one another, offering support throughout their academic year. Dr. Davis says this semester had big plans for the young men, including a financial literacy program, a motivational speaker, and a grant from the City of Elizabeth City that would have them involved in local government activities.
"All of that got put on the back burner with COVID-19, and we are shifting gears," he said.
Shifting gears meant that student success activities would have to be conducted virtually as well as the mutual support these students provide one another. Dr. Davis says that despite the challenges, these young men have risen to the occasion and are still on the path of student success.
Since its launch, students have hosted speakers such as local community leaders and business professionals, faculty and staff, all speaking on subjects ranging from conflict resolution and managing stress to financial literacy, study habits, leadership, and proper etiquette. They also participated in the popular Barbershop Talks, taking them to a local barbershop where, says Dr. Davis, topical discussions take place while men receive haircuts.
The goals of Championship Scholars are:
Improve ECSU male retention rate;
Increase ECSU male graduation rate;
Make graduate school/professional program education a viable choice for ECSU minority male students;
Instill a sense of pride in being a member of an ECSU male student program;
Establish a sense of group unity and academic mindedness in support of graduation efforts;
Instill an overall commitment to achieve student success;
Provide students with monthly workshops ranging from financial awareness, character enhancement, interpersonal relationship management, and cultural enrichment to facilitate successful matriculation into life after college;
Provide professional development and leadership training opportunities.
Dr. Davis says Champion Scholars sister program, Sister 2 Sister, will work to achieve similar goals. The program will begin with freshmen, and the students in these two programs will continue with the programs through their college careers.
This year's freshmen are now sophomores and a new group of freshmen Champion Scholars will enter the program in the fall. The veteran scholars will continue with the program and act as mentors to the incoming freshmen.
This year's Champion Scholars are:
Diante Byass, Criminal Justice
Jordan King, Criminal Justice
Jalen Perry, Engineering Technology
Omar Richardson, Aviation Science
Deron Jenkins, Aviation Science
Kajah Bonner, Kinesiology
Michael Mensah, Aviation Science, Scholars Vice President
Preston Sablon, Unmanned Aircraft Systems
Maxwell Mensah, Aviation Science, Scholars President
Pankey Micah, Aviation Science
Kamari Spencer, Biology
Bryan Brickhouse, Business Administration
Chancellor Huggins, Engineering Technology
Hameed Nelson, English
Tony Guy, Computer Science
Jimmy Eley, Engineering Technology
Abijah Gibson, Criminal Justice, Scholars Treasurer
Tyrique Hagan, Computer Science
Eric Chandler, Business Administration, Scholars Social Media Platforms
Jaylin Johnson, Engineering Technology
Justin Adams, Criminal Justice
Odis Gadson IV, Aviation Science, Scholars Secretary.
---