ECSU launches mobile application
Posted On February 13, 2015
---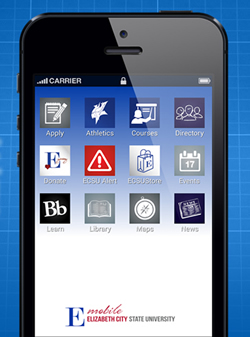 Kesha Williams
February 13, 2015
Elizabeth City State University announces its new mobile application. This application is available on Android and Apple platforms. Features include easy access to information about admissions, university events, courses, the faculty/staff directory, and athletics from your smartphone or tablet. The app also delivers the latest news about ECSU enhanced with photos and videos. This application can be used in the facilitation of donations to the university and to access emergency contact information.
Ronald Scott, ECSU's chief information officer, says this new application is a great way to relay current information.
&quotECSU is pleased to offer our students, employees, and the general public our new mobile app for smartphones and tablets.
The new app allows everyone to remain informed of the university's activities and programs. They can receive important information wherever they are and anyone can download and install the app for free,&quot said Scott.
Visit here to download this free app.
---