ECSU Junior Places First in Thurgood Marshall College Fund Pitch 2019 Competition
---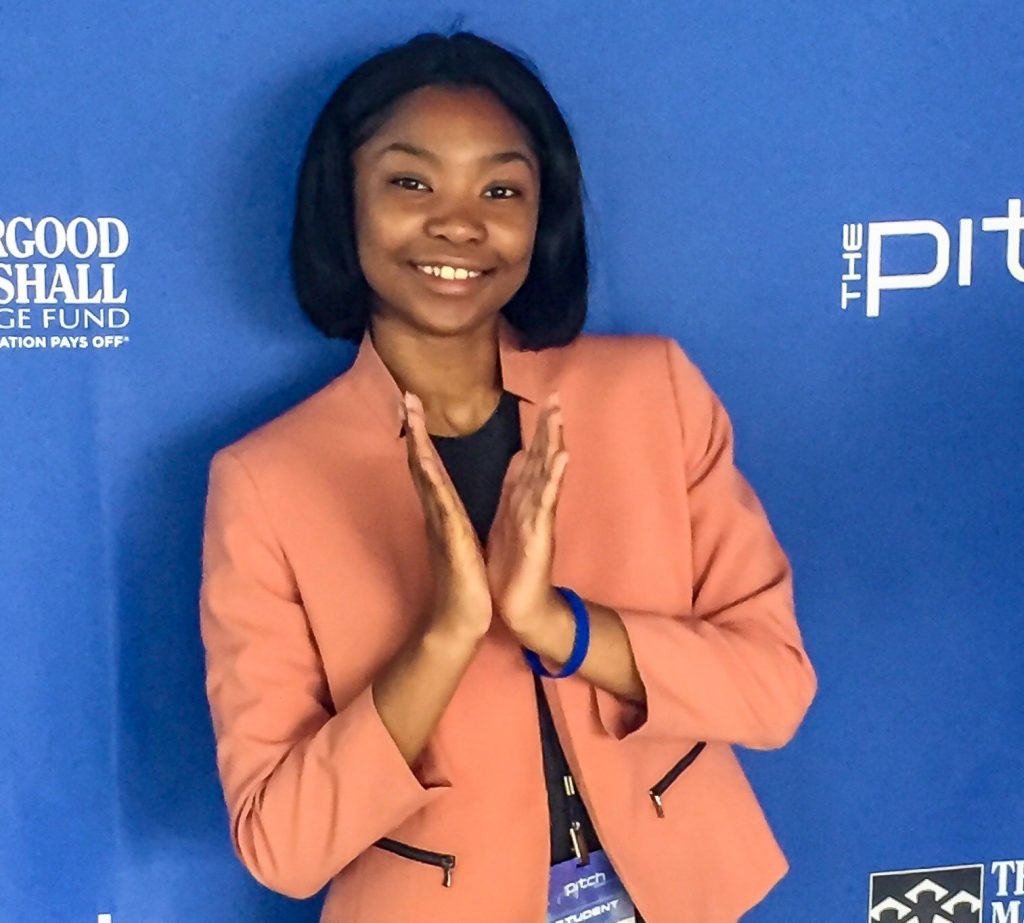 Tykira Beasley, an ECSU junior, is a member of the winning Pitch 2019 team. Pitch is an innovation and entrepreneurial competition held by the Thurgood Marshall College Fund each year.
Tykira Beasley got a taste of success when she participated in the Thurgood Marshal College Fund (TMCF) Pitch 2019 innovation and entrepreneurial competition. The Elizabeth City State University student who is a double major in graphic design and computer programming, was a member of the first place team, developing an app to aid teachers in the classroom.
"It scans student handwriting and the student receives a grade that is linked to the teacher's external grade books," explained Beasley, a junior who minors in computer programming.
Held in Durham, North Carolina earlier this month, the competition is set up for 100 hand-selected Historically Black College and University students from 37 different schools. The teams are comprised of students from different HBCUs.
The competition is held over the course of one week, providing students with what TMCF officials describe as "a very intense week of learning." The teams were tasked with creating an innovative app aimed at any number of applications.
Team members are assigned specific roles. There is  the architect tasked with designing the overall purpose of the app, the creative who is tasked with designing the app prototype, and the team programmers who work on the software development of the app.
The winning team, of which Beasley was the creative member, developed Grade Flip. The purpose of the app, aside from making grading more efficient, is to allow teachers to have more hands-on time with students.
The winning team members were awarded a MacBook, and a drone, said Beasley. After the competition, Beasley is going on to work as an intern for Ally Financial over the summer.
"I'll be doing digital transformation," she said. "Working to enhance their website and mobile app."
Beasley says she hopes to work in the corporate world. She would like to use her skills as a designer and computer programmer to work with computer user-interface and user-experience design.
Also joining Beasley in this year's competition was ECSU senior, and computer programming major, Benjamin Farrington. Farrington says his team did not place but he gained valuable experience as the team programmer, designing an app that would bring investors and entrepreneurs together to fund future projects.
Farrington will spend the summer as an instructor at a technology camp in Charlotte, working with high school age campers. After graduation he hopes to work as a software engineer, gain experience and then eventually create his own start-up business.
The Pitch 2019 competition included remarks from Durham Mayor Steve Schewel, TMCF President and CEO Harry L. Williams, and Christina Piard, community engagement director for Congressman G.K. Butterfield (D-NC). Expert judges included TMCF National Ambassador Terrence J; Brandon Andrews, co-Founder of Gauge; Charlie Bradley, senior director of public affairs for the Brian Hamilton Foundation; Tani Brown, chief of staff for Jopwell; Michael Doernberg, CEO and co-Founder of ReverbNation; Drew Henson, CEO for Seam Technic; Rashad Howard, entrepreneur, investor, change agent; Ebony Pope, principal for Rethink Education; Davon Snipes, strategy lead, office of the CIO, for Google; and Subway franchise owner, Chris Williams.
---