ECSU Introduces Civic Action Plan at Latest Community Forum
---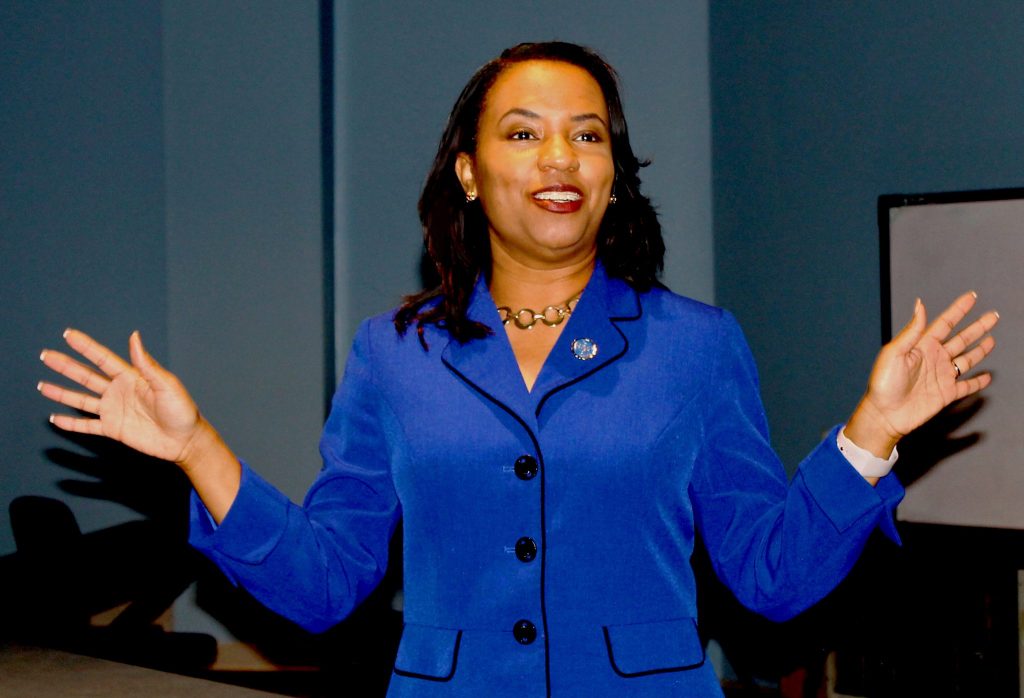 Interim Chancellor Karrie Dixon welcomes a crowd of more than 50 community members to the ECSU community forum Tuesday, April 24. The forum introduced the university's Civic Action Plan to government officials, business owners and more.
Last Tuesday, April 24, Interim Chancellor Karrie Dixon stood before a crowd of university and community members, welcoming them to another in a series of community relations forums designed to bring Elizabeth City State University and the surrounding community together, building a stronger future for the region.
"How can ECSU engage with the community, and how the community can engage with ECSU," Dixon told the crowd. "We can't do it alone."
The series of community forums began with out-going ECSU chancellor, Dr. Thomas Conway. The focus of the forums has been to find ways for ECSU to serve the public, and bring the public on campus.
Special assistant to the chancellor, Russ Haddad, presented to the crowd of more than 50 government officials, business owners, ECSU faculty and staff, and students.
"What this does is bring together our programs," said Haddad, presenting the action plan. "It formalizes our blueprint for community engagement."
The Civic Action Plan represents key points for continued progress, starting with commitments, said Haddad. The university seeks to empower the ECSU community to create partnerships, building a stronger future beyond the campus by preparing students for lives of engaged citizenship, and embracing our responsibilities as an institution and member of the greater Northeast North Carolina region.
Haddad said the mission of this action plan is to enable students and employees to move beyond campus life and effect change in the surrounding region. Guiding principles of the mission are "cultural humility, empathy, and systems critique (looking at the forces of inequality and oppression)."
The vision of the action plan is to have the ECSU community "embrace, recognize, and reward excellence in civic engagement."
The plan includes efforts to establish leadership development, civic engagement including service opportunities, student professional development such as internships with area organizations and businesses, and even global engagement.
Haddad said that currently there are activities underway involving students, staff, and faculty in service. Students organized the campus food pantry which is currently serving more than 40 students in need each month since it first opened in January.
Students are also taking efforts beyond campus and becoming increasingly involved in more community activities.
The next steps will be to implement the principles of the action plan. The community forums will continue in an effort to keep ECSU and the surrounding community informed and to continue dialogue.
For more information about the Civic Action Plan, contact Haddad at rghaddad@ecsu.edu.
---