ECSU International Student Participates in United Nations Climate Action Summit and Coalition Conference
Posted On November 12, 2019
---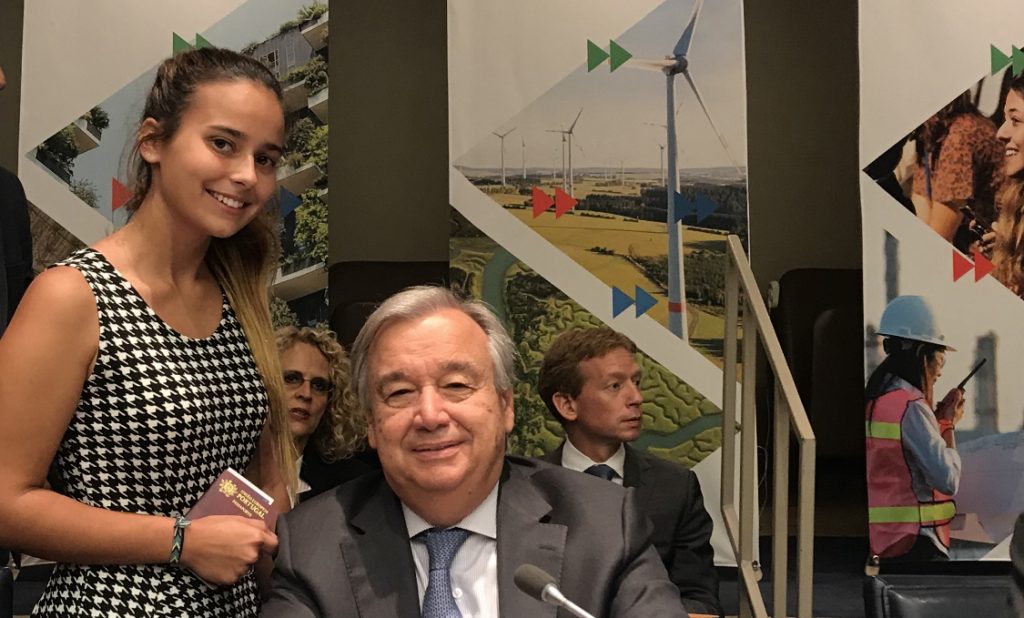 ECSU student Beatriz Neto, left, attended the U.N. Climate Action Summit in September where she met U.N. Secretary General Antonio Guterres.
Beatriz Neto is far from home, but here at Elizabeth City State University, the Porto, Portugal native is finding a future not only as a student, but also as a member of the United Nations Climate Action Summit and Coalition.
Twenty-year-old Ms. Neto, a business administration junior, joined students in New York City in September to participate in the summit. She was encouraged to participate by fellow student and U.N. youth ambassador Franck Yao, whom she characterizes as a "mentor."
"Being part of such an innovative and major event for our planet, and having the chance to enter the United Nations headquarters as something other than a tourist has always been a dream of mine, which I saw being fulfilled during these events," said Ms. Neto.
On Sept. 20, as Ms. Neto arrived in New York, the United States Youth Climate Action Strike was taking place in the city. Throughout the city, students marched in protest, demanding action from world leaders to address climate change.
"It was a breathtaking experience to be part of this movement and fight for the future of our planet," she said.
On her second day, Ms. Neto attended meetings at the summit, learning about "a serious need for change in both the climate and emission sector."
"Throughout the day I had the opportunity to attend different conferences as well," she said. "Some were just informative, while others included debate sessions and workshops conducted by young entrepreneurs as well as world leaders affiliated with the U.N."
Ms. Neto says she received an unexpected invitation to the summit's official dinner, demonstrating to her "the U.N. vision to promote both diversity and inclusion as a key social foundation among youth."
She ended her time at the U.N. by attending a one-on-one discussion with U.N. Secretary General Antonio Guterres, "shedding light on pressing issues such as equal opportunities, youth empowerment, and government negligence when it comes to climate action."
Ms. Neto says since returning to the ECSU campus, her goal is to spread the word of her experience at the U.N. in hopes of getting the campus – students and faculty – involved in the issue of climate change. She will be speaking about her experience at the U.N. during the Nov. 20 International Forum, 3-5 p.m. in the Ridley Student Center, room 206 – part of ECSU's International Education Week, Nov. 18 through Nov. 22.
A competitive tennis player, Ms. Neto was recruited to ECSU as a member of the tennis team. She says the university's accredited business program led her to finalizing her decision to become a Viking.
After graduation with a degree in business administration with a concentration in economics and finance, Ms. Neto says she will pursue as master's degree in international relations.
"I wish to become an ambassador for my country (Portugal), or the United Nations," she said.
Ms. Neto says that by attending the United Nations summit, she was able to begin building a large network, and obtain new insights that will be crucial to her future career. And it all began on ECSU's campus, networking with fellow students, under the guidance of university faculty.
"Upon returning home," Ms. Neto said of her return to campus from the U.N., "I felt extremely refreshed, yet empowered to advocate more for our planet's future as my generation, including myself, are the main architects of this one. I even received a job opportunity from this experience, thus testifying further how fulfilling this week was for me, not only socially, but professionally as well."
---