ECSU Instructor George Cox is a Ham radio operator after hours
---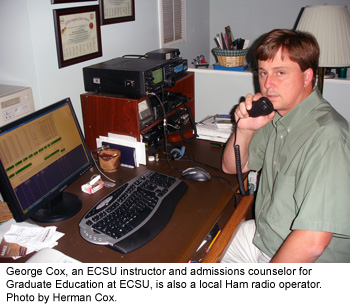 Kesha Williams
July 05, 2011
George Cox is no stranger to the process of sending and receiving messages. By day, he sends and receives messages as an instructor in the ECSU School of Education and Psychology.&ampnbsp After hours, takes to the airwaves where he is likely to send and receive messages from numerous Ham radio operators across the Albemarle.
Throughout his childhood, Cox listened as his dad engaged in conversations over ham radio. He learned that ham radio could serve a special purpose during storms when telephones and other forms of communication fail. Ham radio operators can use local radio frequencies to relay messages by voice or send digital messages on other frequencies.
&quotHam radio is a way to explore my interests in the sciences — the physics of radio waves — and I relay that knowledge to students in the Principles of Physical Science class here,&quot Cox said.
Recently, Cox joined his colleagues in the Albemarle Amateur Radio Society for a public demonstration of their skills. During a recent Field Day that lasted 24 hours, local participants used various forms of technology –digital and continuous wave frequencies — to relay test messages that could be critical during a dangerous storm. Like many of the participants, Cox is also a weather spotter, a specially trained volunteer who observes and relays weather information to the National Weather Service. It's all very gratifying for him.
&quotI've been a spotter about as long as I have been a ham. The weather service teaches you to determine how large hail is or how strong winds are. You can relay information that helps them understand how people here are affected by storms that occurred across entire regions,&quot Cox said.
Local ham radio operators serve the community in other ways, as well.
&quotWe provided communication for a local cycle club during their special event,&quot Cox said. &quotWe also assist with communications for emergency management in times of emergency and for other local organizations when needed.&quot
Amateur radio has been a part of Cox's life for years. He passed the required tests, earning the license granted by the Federal Communications Commission years ago. As an undergraduate student at East Carolina University, he used ham radio to converse with his parents and friends while commuting from Elizabeth City, his hometown. After earning his degree and returning to the city with his wife to raise their kids, his ham radio set claimed a small corner of their home.
&quotYou can talk over a range of frequencies while traveling to maintain communication in North Carolina or use the high frequencies to talk to people around the world&quot Cox said. &quotIt's good to know a form of communication that existed long before cell phones is still valuable today.&quot
---