ECSU Honored For Getting the Vote Out
Posted On November 15, 2019
---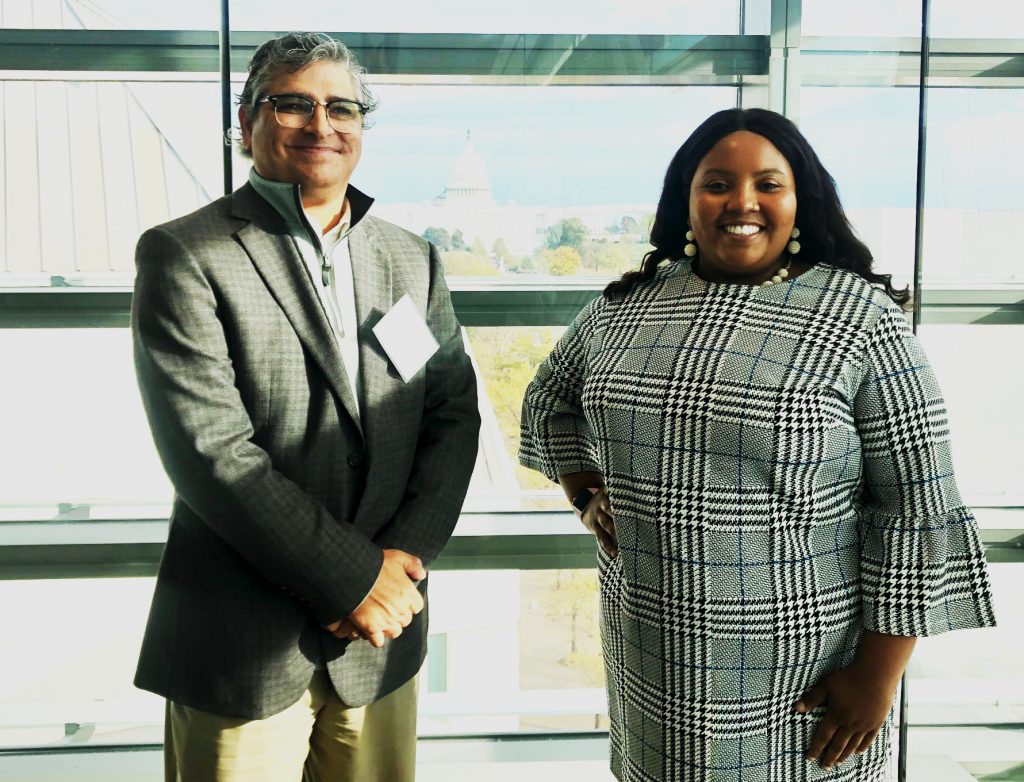 Eyricka Johnson, right, attended the ALL IN Campus Democracy with ECSU's director of community and economic engagement, Russ Haddad. Ms. Johnson brought home a "silver seal" award for her work registering and educating fellow Vikings to vote.
Eyricka Johnson wants you to vote. The Elizabeth City State University senior wants you to vote so much, she took it upon herself to launch a campaign to educate and register students, and accepted an award on behalf of ECSU for the effort.
Ms. Johnson, a history major, recently returned from a conference in Washington D.C. where she was given a "silver seal" award by the ALL IN Campus Democracy Challenge. The organization promotes student engagement in elections, and ECSU was recognized for Ms. Johnson's efforts registering at least 40 percent of the student body to vote.
"I think a lot of students don't understand that they can vote in Elizabeth City now," said Ms. Johnson. "They are residents of the city. Your vote is your voice."
To get students to the polls, Ms. Johnson worked to organize voter registration drives, candidate forums, a bus to the polls, and a march to the polls. She also held voter education forums, and followed up with students to get them out to vote.
"I think it's really important to make sure everyone is engaged," she said.
So far during the 2019 fall semester, Ms. Johnson has seen 150 students register to vote. All of that work made Ms. Johnson a top honoree during the conference earlier this month.
"We are excited to honor Elizabeth City State University with an ALL IN Challenge silver seal in recognition of their intentional efforts to increase democratic engagement and full voter participation," Jennifer Domagal, ALL IN executive director, said in a statement. "More institutions like ECSU are changing culture on campus by institutionalizing nonpartisan democratic engagement efforts that are resulting in the incredible student voter turnout rates that we've seen across the country."
The ALL IN Campus Democracy Challenge is a nonpartisan, national initiative recognizing and supporting campuses as they work to increase nonpartisan democratic engagement and full student voter participation. The Challenge encourages higher education institutions to help students form the habits of active and informed citizenship, and make democratic participation a core value on their campus.
More than 560 campuses, enrolling more than 6.2 million students, have joined the Challenge since its launch in summer 2016.
---