ECSU honored for Community Service
---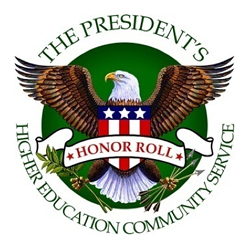 Corporation for National and Community Service
March 26, 2012
The Corporation for National and Community Service (CNCS) and the U.S. Department of Education recently honored the nation's leading colleges and universities, students, and faculty members, and staff for their commitment to bettering their communities through community service and service learning.
Elizabeth City State University was admitted to the Honor Roll for its achievements as an institution of higher learning engaged in community service.
&quotThrough service, these institutions are creating the next generation of leaders by challenging students to tackle tough issues and create positive impacts in the community,&quot said Robert Velasco, Acting CEO of CNCS. &quotWe applaud the Honor Roll schools, their faculty and students for their commitment to make service a priority in and out of the classroom. Together, service and learning increase civic engagement while fostering social innovation among students, empowering them to solve challenges within their communities.&quot
&quotPreparing students to participate in our democracy and providing them with opportunities to take on local and global issues in their course work are as central to the mission of education as boosting college completion and closing the achievement gap,&quot said Eduardo Ochoa, the U.S. Department of Education's assistant secretary for postsecondary education. &quotThe Honor Roll schools should be proud of their work to elevate the role of service-learning on their campuses.  Galvanizing their students to become involved in projects that address pressing concerns and enrich their academic experience has a lasting impact – both in the communities in which they work and on their own sense of purpose as citizens of the world. I hope we'll see more and more colleges and universities following their lead.&quot
The President's Higher Education Community Service Honor Roll recognizes higher education institutions that reflect the values of exemplary community service and achieve meaningful outcomes in their communities. Inspired by the thousands of college students who traveled across the country to support relief efforts along the Gulf Coast after Hurricane Katrina, the initiative celebrates the transformative power and volunteer spirit that exists within the higher education community.
Examples of community service activities include the March of Dimes, Relay for Life, Green for All, Toys for Tots, American Red Cross Blood Drives, and sustainability projects. This year's projects included the Energy Efficiency &quotDorm-Off&quot Competition&quot which was a one month challenge &ampnbspto conserve energy in the residence halls, and the March of Dimes &quotMarch for Babies&quot in which is chaired by Dr. Anthony Brown, vice chancellor for the ECSU Division of Student Affairs, and includes five student organizations, several staff members and faculty, and several thousand individuals in the city who raise funds to support research, advocacy, community service and education that saves babies.
More 80,000 community service hours were spent by ECSU students and at least 200 ECSU students are engaged in at least 20 hours of community service per academic term.
&quotI am pleased and encouraged by the efforts of our students to promote public and community service, and I challenge our students to continue to serve in active life-long learning projects in their communities,&quot &ampnbspBrown said.
The Corporation for National and Community Service, which has administered the Honor Roll since 2006, admitted a total of 642 schools to colleges and universities for their impact on issues from literacy and neighborhood revitalization to supporting at-risk youth. Of that total, 513 were named to the Honor Roll, 110 received the recognition of Honor Roll with distinction, 14 were identified as finalists, and five received the Presidential Award. For a full list of recipients, visit www.NationalService.gov/HonorRoll.
On campuses across the country, millions of college students are engaged in innovative projects to meet local needs, often using the skills learned in classrooms. In 2010, 3.1 million college students dedicated more than 312 million hours of service to communities across the country, service valued at more than $6.6 billion. Business and law students offer tax preparation and legal services, and college student volunteers provide meals, create parks, rebuild homes after disasters, conduct job training, run senior service programs, and much more.
The Corporation for National and Community Service is a strong partner with the nation's colleges and universities in supporting community service and service-learning. Last year, CNCS provided more than $200 million in support to institutions of higher education, including grants to operate service programs and the Segal AmeriCorps Education Awards for college tuition and student loan repayment. CNCS is a catalyst for service-learning programs nationwide that connect community service with academic curricula. Through these programs, college students serve their communities while strengthening their academic and civic skills.
CNCS oversees the Honor Roll in collaboration with the U.S. Departments of Education and Housing and Urban Development, Campus Compact, and the American Council on Education. Honorees are chosen based on a series of selection factors, including the scope and innovation of service projects, the extent to which service-learning is embedded in the curriculum, the school's commitment to long-term campus-community partnerships, and measurable community outcomes as a result of the service.
The ECSU Office of University Relations and Marketing contributed to this press release.
---