ECSU Honda Challenge Team Donates $7,000 to Food Bank
---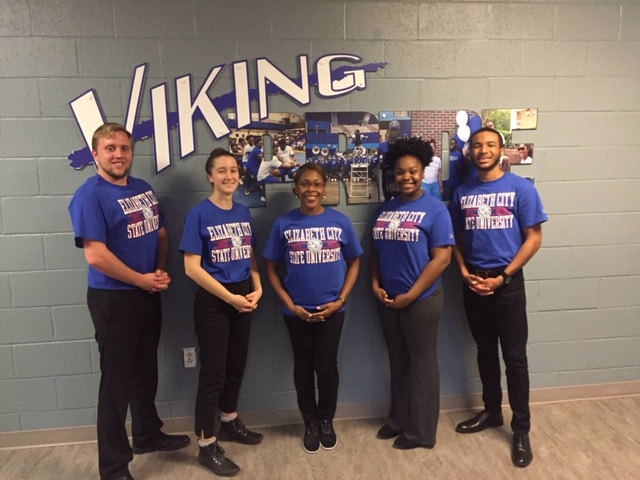 Thanks to a grant from the Honda Campus All-Star Challenge (HCASC), Elizabeth City State University students made a $7,000 donation to Food Bank of the Albemarle on Monday, June 22.
After winning a series of regional competitions, Elizabeth City State University was one of 48 schools prepared to vie for the championship title at the 30th annual Honda Campus All-Star Challenge in April. Known as America's premier academic competition for Historically Black Colleges and Universities (HBCUs), the top prize would have been a $75,000 institutional grant from Honda.
According to Yolanda Carcana, the ECSU team coach, each team typically receives a grant to assist with the competition. Honda, she said, had determined that the grants would still be distributed, and each team could direct the funds to support their communities.
"The ECSU HCASC team worked really hard to qualify for the national competition in April," said Ms. Carcana. "Even though they didn't get to compete in California, they are excited knowing that this donation will support their community in feeding those in need. They look forward to competing next year."
The ECSU team agreed that Food Bank of the Albemarle was an appropriate community organization during the pandemic. The region, like many communities, has seen an increase in the need for hunger relief.
"We want to thank ECSU and the members of the Honda Campus Challenge Team for their recent donation to support the work of Food Bank of the Albemarle," said Liz Reasoner, executive director for Food Bank of the Albemarle. "This generous donation of $7,000 will provide approximately 28,000 meals to hungry individuals, families, children, and our veterans."
The HCASC National Championship Tournament was to be held in April on the American Honda campus in Torrance, California. The Challenge connects some of the nation's best and brightest HBCU students who expand their scope of knowledge, learn teamwork and sportsmanship, and develop a bond with their fellow competitors. The fast-paced buzzer competition highlights students' academic prowess and ability to answer questions about history, science, literature, religion, the arts and pop culture.
This year's ECSU team members are Noah Gunter, Brenna Daniel, Jasmine Roundtree, and Nomar Proctor.
The Honda Campus All-Star Challenge has been working for HBCU's for the past 30 years. The year-round program provides community service activities, leadership, networking opportunities and mentorship to HBCU students.
In 1989, Honda established HCASC as a way to recognize and celebrate the academic achievements of HBCU students. More than $9 million in grants from Honda to participating HBCUs have been used to fund tuition and book scholarships, student development initiatives, endowment and development campaigns, as well as facilities and equipment. Over its 30-year history, HCASC has built a network of more than 125,000 program alumni.
---