ECSU Holds First-Ever Faculty and Staff Appreciation Night
Posted On February 19, 2019
---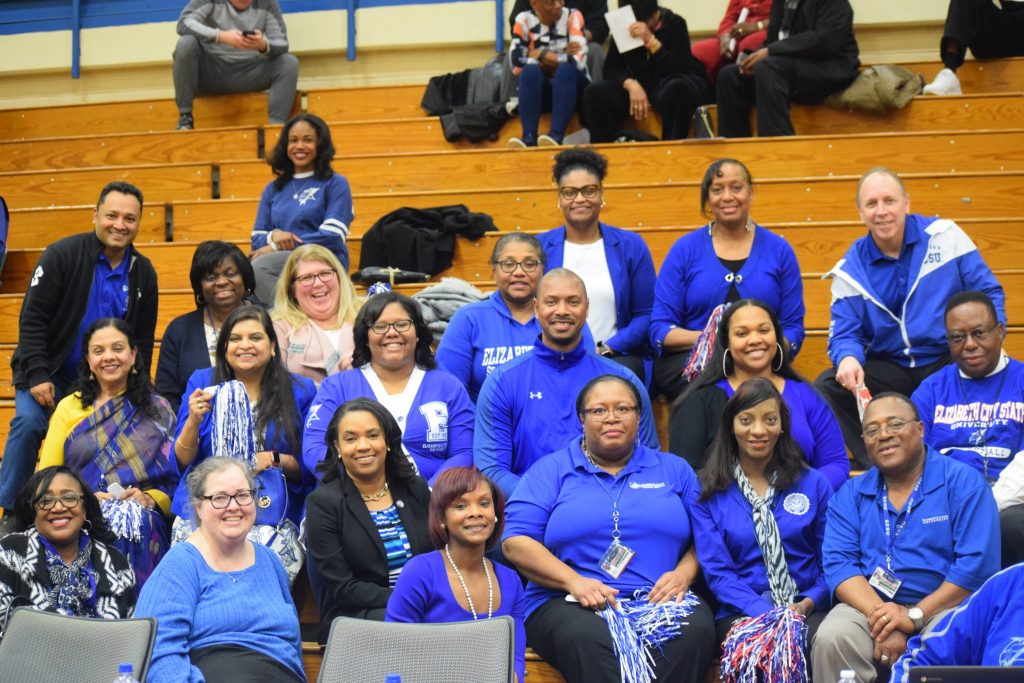 More than 100 ECSU faculty and staff attended the first-ever Faculty and Staff Appreciation Night during a recent Viking basketball game.
Elizabeth City State University held its first-ever Faculty and Staff Appreciation Night during last week's men and women's basketball game against Lincoln University, and it was a "major success," according to Faculty Athletics Representative and Associate Vice Chancellor, Dr. Coray Davis.
ECSU's Interim Provost and Vice Chancellor for Academic Affairs, Dr. Farrah Ward, said the university recognizes the time and effort faculty and staff invest in the young men and women enrolled here. The university, she said, recognizes the work they've done and wanted to celebrate that, and the effect these men and women have on student-athletes.
"Our student-athletes represent the best of what the university has to offer," said Dr. Ward. "Aside from classroom excellence, they are the pillars of our athletics program."
ECSU Athletics Director George Bright said that Wednesday's game provided a unique opportunity to celebrate the "unwavering support for the success of the university's student athletes."
"Our mission is to inspire and empower our student-athletes and staff to realize their intellectual, athletic and personal potential to have a high-level academic and athletic experience," said Athletics Director George Bright. "We are honored to recognize our great faculty and staff".
ECSU student-athletes commit themselves to competitive excellence both in athletics and in the classroom. Nearly 40 percent of the student athletes earned 3.0 or above term and cumulative GPA last semester.
"Our expectations for our student-athletes are high – we expect them to compete just as hard in the classroom as they do in their sport – at the highest level," said Dr. Davis.
The student-athletes are fulfilling, and often exceeding, expectations, said Dr. Davis. The 174 student athletes are represented in 21 majors across the ECSU curriculum. Ten student-athletes are members of the ECSU Honors Program. Five of the 174 student-athletes earned a perfect 4.0 GPA last term, while 71 student-athletes earned a 3.0-or-higher GPA.
The most recent data from the NCAA's Institutional Performance Program shows that ECSU's student athlete retention rate of 87.9% ranks as the highest among all institutions within the Central Intercollegiate Athletics Association (CIAA).
The inaugural "Favorite Faculty" were also recognized during the event. Each member of the men and women's basketball teams identified their favorite faculty and staff member who joined them during the announcement of starting lineups.
The favorite faculty list includes:  Dr. Crystal Terry (Kinesiology); Dr. Kimberly Miller (Sports Management); Dr. Delbert Garnes (Psychology); Ms. Sheryl Bradford (Natural Sciences); Dr. Tarsha Rogers (University Studies); Ms. Tara Bennett (Student Support Services); Dr. Alex Ogwu (Business Administration); Mr. Don Payne (English); Dr. Boung Jin Kang (Kinesiology); Dr. Glen Bowman (History); Dr. Kingsley Nwala (Business Administration); Ms. Lucretia Banks (Criminal Justice); Dr. Tesfaye Serbessa (Natural Sciences); Dr. Jeanna Miller (English); Mrs. Dana Poole (University Studies); Dr. Michael Frederick (Sports Management); Dr. Kenneth Jones (Mathematics); and Mrs. Manaecia Cole (University Studies).
ECSU ACADEMICS AND ATHLETICS EXCELLENCE BY THE NUMBERS
87.9% – Student Athlete retention rate, ranks as the highest of all institutions within the CIAA
71 – The number of student-athletes who earned above a 3.0 term GPA in the Fall of 2018
21 – The number of different majors represented by student athletes
20 – The number of student-athletes who earned a 3.5-or-higher GPA
10 – The number of student-athletes who are members of the ECSU Honors Program
5 – The number of student-athletes who earned a 4.0 GPA
1 – Student-athlete who is a Benjamin A. Gilman International Scholar
---