ECSU holds American Education Week Assembly and awards area teachers
Posted On November 22, 2010
---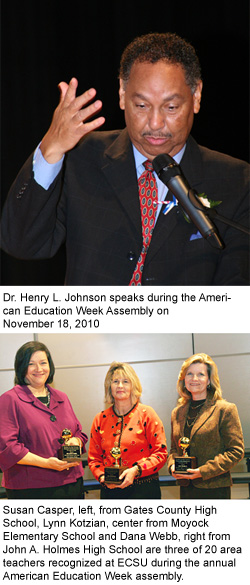 Kesha Williams
November 22, 2010
ECSU's annual American Education Week Assembly brought area educators to the campus for awards and a speech by Dr. Henry L. Johnson, a retired educator, administrator and former U.S. Assistant Secretary of Education for Elementary and Secondary Education.
Johnson commended educators for their dedication to the profession. He admitted the global economy has made the job of American educators more challenging than ever before. America, he said, has clearly fallen behind in the quest to produce a sufficient number of the world's scientists, mathematicians and engineers. American students must be prepared to compete for jobs with their peers and students who come from countries around the world. While educators have plenty of information now to offer a quality education, the search continues for ways to improve the process.
&quotThere are several factors that contribute to a student's success – the quality of the curriculum, assessments, effective teaching methods, family influences, civic, fraternal, business and religious organizations that reward students. We have to consider student interests, each student's learning style and their aptitude,&quot Johnson. &quotWhen kids are challenged more, they produce more. We must identify and build their strengths, remediate their deficiencies and help them realize they can control their destinies.&quot
Johnson earned an undergraduate degree from Livingstone College, a master's degree from UNC Chapel Hill, and a doctorate degree from N. C. State University. He has over 30 years of service as a classroom teacher, administrator, and state superintendent of education. He's earned numerous awards and honors for his work and is now a senior advisor on B &ampamp D Consulting's education team.
Chancellor Willie Gilchrist thanked Johnson for his speech and the award winning teachers in the audience who came from area counties.&ampnbsp He also commended the American education Committee: Dr. Charles Cherry, Dr. Ali Khan, Dr. Linda Lisowski, Dr. Delbert Garnes and Dr. Christopher Egbunike.
---