ECSU History Professor Discovers Forgotten History of Region's First African-American-Owned Bank
---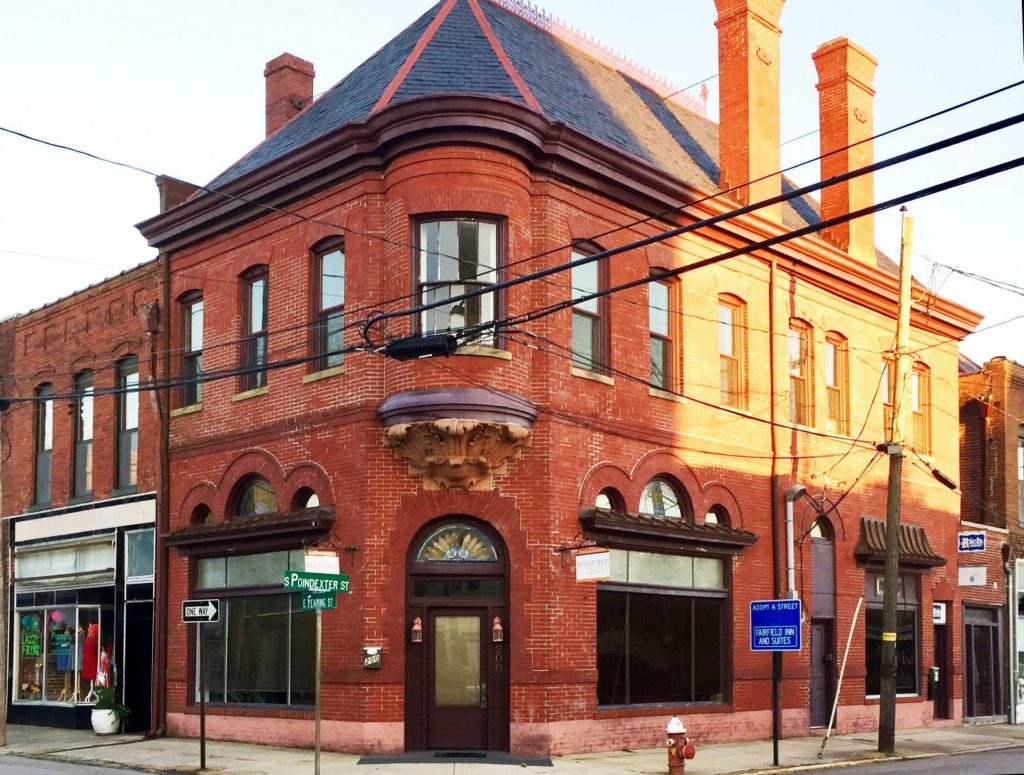 The historic Citizens Bank building located on the corner of Fearing and Poindexter Streets in downtown Elizabeth City was the site of the region's first African-American-owned bank, Albemarle Bank. (Photo Courtesy Dr. Melissa Stuckey)
Elizabeth City State University history professor, Dr. Melissa Stuckey, is diving deep into the African-American history of Elizabeth City. As a member of the board of Friends of Museum of the Albemarle, Dr. Stuckey recently published a column in The Daily Advance detailing the history of Albemarle Bank, the first African-American-owned bank in the region.
Her exploration of this history is part of her work preparing for a unit of study for her fall 2020 ECSU course, African-Americans in North Carolina.
"We'll be using city directories, Sanborn maps, newspapers, census records, and other sources to do this work," said Dr. Stuckey. "The students will learn how to use these primary source documents to write short pieces about the businesses or people they learn about similar to my piece on the Albemarle Bank."
Dr. Stuckey learned about the Albemarle Bank by looking through the 1923 Elizabeth City directory. She says during the years of Jim Crow laws in the South, African-American people and their businesses were identified to indicate their race.
"I honestly did a double take when I saw that this bank was marked to indicate that it was an African-American-owned business," she said. "I had no idea there was an African-American-owned bank in Elizabeth City. Banks like the Albemarle Bank were so important. They provided black people with access to capital that they could not otherwise get."
Dr. Stuckey says that the importance of bank access continues to resonate today where COVID-19, the CARES Act and the protests sparked by the killing of George Floyd are highlighting "long-standing inequities surrounding African-American access to capital to grow and sustain small businesses and facilitate home ownership."
The following is the column Dr. Stuckey wrote for Museum of the Albemarle, published in The Daily Advance as a part of its long-standing Sunday history column found in the Albemarle Life section of the publication:
The Albemarle Bank of Elizabeth City
Melissa Stuckey, Assistant Professor of history at Elizabeth City State University and Board member of the Friends of the Museum of the Albemarle
Standing on the corner of South Poindexter and East Fearing Streets and nestled within Elizabeth City's historic district is a decorative red brick building with a little-known history. On August 14, 1920, this structure opened for business as the Albemarle Bank, the first African-American-owned bank in northeastern North Carolina. Building off a long tradition of mutual aid within African-American communities, African-American-owned banks provided their clientele with savings and loans opportunities along with respectful customer service. These goods and services were especially important during the era when black people in the United States endured segregation and other forms of legal discrimination. By 1924, North Carolina was home to ten African-American-owned banks.
Bank organization began in 1919 with the coming together of a group of African-American leaders from across the region. Dr. Ernest L. Hoffler, an Elizabeth City physician, was elected president, and Peter W. Moore, president of the State Colored Normal School (today Elizabeth City State University) served as one of four vice presidents. Among the twenty-five-member board of directors was, Mrs. Mary E. Sills of Ahoskie, the first woman to serve on the board of directors of a bank in the entire state of North Carolina. The group acquired the property (the old Citizen's Bank building) and then raised over $25,000 in capital to begin the enterprise.
The bank opening ceremony took place at Mt. Lebanon A. M. E. Zion Church on Culpepper Street. The Honorable William Henry Harrison of Chicago, described in contemporary newspaper accounts as "the only negro superior court judge in America," delivered the keynote address. A crowd, estimated to be five thousand in size, was also treated to music performed by a forty-seven-piece brass band from Norfolk. All depositors received a souvenir to commemorate the event.
The Albemarle Bank served its clientele for five years before its closure in 1925. It offered a popular Christmas Club savings program and customer appreciation days that celebrated different groups of depositors like farmers, women, children, churches, clubs, businesses and professionals. Unfortunately, the bank was forced to close its doors due to slow debt collection and financial irregularities. This disappointing end indicated the fragility of all banking institutions prior to the formation of the Federal Depositors Insurance Corporation (FDIC) in 1933. The former bank building has since housed several other businesses including a clothing store, a cupcake shop, and, now, a project management company.
---