ECSU Hires Coach Marcus Hilliard to Lead Vikings Football Team
Posted On December 14, 2021
---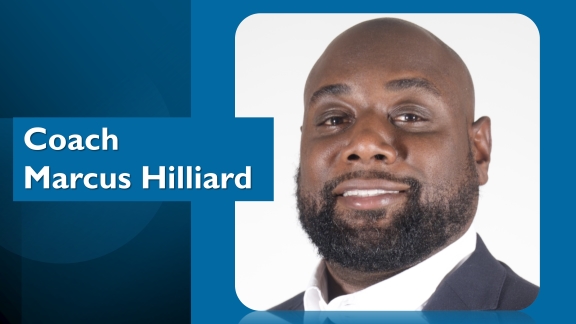 Elizabeth City State University (ECSU) announces Marcus Hilliard has been named ECSU Football Head Coach. A former ECSU Assistant Head Coach, Defensive Coordinator and 2004 alum, Hilliard returns to ECSU with a historied knowledge of the program, authentic home-grown Viking pride, and a vision to revive the program, restore the culture, and bring about a new era and brand of Viking football to ECSU. Coach Hilliard will take over the Vikings football program effective January 2022.
"We are thrilled to have Coach Hilliard back at ECSU," said ECSU Chancellor Karrie G. Dixon.  "He was a respected member of the athletic program and helped lead our football program for 13 years, and we welcome him back home to the Vikings.  Our students are fortunate to have a coach with a winning record and passion for the game."
In 2018, Hilliard was nationally recognized by the American Football Coaches Association (AFCA) as the Division II Assist Coach of the Year.
"Coach Hilliard is a proven leader, educator, and winner and exemplifies high character and high integrity. As both player and coach, his football teams have risen to a higher level. Coach Hilliard is the right person at the right time.  He is someone who has the ability and desire to bring our community of Vikings and friends together.  We look forward to the new era with our Viking Football program," said Athletic Director George Bright.
Hilliard has spent the previous three seasons as the assistant head coach at Virginia Union University (VUU), where he is also the co-defensive line coordinator.  Hilliard is responsible for leading the Panthers defensive unit, managing the football budget and scholarships, and serving as the professional football scout liaison.
Prior to his arrival at VUU the Goldsboro, NC, native spent 14 seasons climbing the ranks at ECSU while playing a pivotal role in the development of the program. During his eight years as the defensive coordinator for ECSU, Coach Hilliard produced a combined 16 All-CIAA First Team, Second Team and Honorable Mention performers.
"I'm excited to be back home and ready to get to work," said Hilliard. "This opportunity is not one that I take lightly. The opportunity to impact such a group of talented student-athletes on and off the field is why I wake up and do this job every day. It's my obligation to every player that puts on that ECSU jersey agreeing to trust the process and join me on this journey. I'm glad to be here and looking forward to restoring ECSU football."
Hilliard began his coaching career for the Mighty Vikings as the Assistant Football Coach-defensive line starting in August 2004.  He played an intricate part of the heralded "Blue Swarm" defense, which in 2006, shut out four opponents and held six opponents to seven points or less. That season was one for the history books as ECSU set a winning record of 9-3.  The Vikings were also ranked 5th in the nation in scoring defense, 2nd in takeaways, 5th in interceptions and 4th in fumbles recovered.
During the 2007 season, his defense gave up only 234 yards per game which put his team at 4th nationally in total defense.
Hilliard advanced to the Assistant Head Coach and Defensive Coordinator position in 2010 where he developed game plans, supported student athlete development, and orchestrated the Vikings entire defensive strategy.  Coach Hilliard also monitored student-athlete grades to ensure academic progress and eligibility, recruited prospective student athletes, and served as the Strength and Conditioning Coordinator.
In 2011, his defensive unit finished 14th in the nation in total defense. He has been a part of four CIAA championship games (2006, 2008, 2011, 2012) and four post season appearances.
Additional Professional Accolades
Hilliard is always looking to increase his knowledge, and in May 2010, he was among 25 participants in the U.S. chosen to participate in the NCAA Men's Football Coaches Academy. This program was developed to prepare minority coaches for head coaching positions.
That same year, Coach Hilliard was selected to participate in the Pittsburgh Steelers' preseason training through the Bill Walsh NFL Diversity Coaching Fellowship program. It provides NFL coaching experience to a diverse group of coaches every year.  It exposes talented minority college coaches, high school coaches, and former players to the methods and philosophies of NFL coaching staffs.
When Hilliard played for ECSU, he was a four-year letterman for the Vikings and the leading tackler for the 5th ranked defense in Division II during the 2002 season. He was also a member of the 2001 All-CIAA Defensive First Team, was a two-time Thomas A. Caldwell recipient for excellence in football (2001-2002) and received the Pepsi-Cola Most Outstanding Football Award in 2003.
Hilliard is a North Carolina native who graduated from ECSU in 2004 with a bachelor's degree in History.  He went on to earn his master's degree in Sport Management from the United States Sports Academy in 2007.
---