ECSU 'HerStory' Lecture Series Features Two Scholars Focusing on Women and African American History
---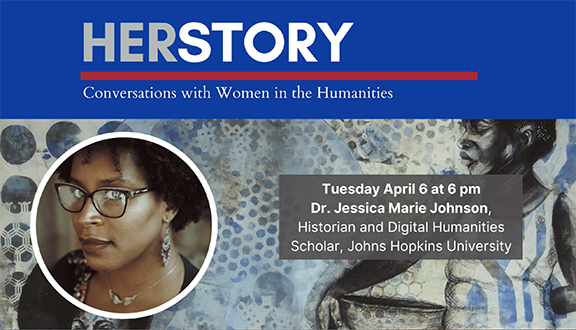 Women in the humanities is the focus of Elizabeth City State University's Department of History "HerStory" series and April 6 Dr. Jessica Marie Johnson will kick off the two-part series. Then, on April 13, Dr. Janelle Jennings-Alexander will wrap up the series.
"The HerStory series will bring pathbreaking and inspiring women scholars to ECSU to discuss their experiences, scholarly work, teaching, and activism in conversation with students," said ECSU professor of history, Dr. Charles Reed.
Dr. Johnson's talk takes place Tuesday, April 6 at 6 p.m. Dr. Jennings-Alexander's talk will happen the following Tuesday, April 13, also at 6 p.m. Attendees are asked to register for this free event HERE.
Dr. Johnson is an assistant professor in the Department of Historyat the Johns Hopkins University and the Spring Sheila Biddle Ford Foundation Fellow at the Hutchins Center for African and African American Studies at Harvard University. She is a historian of Atlantic slavery and the Atlantic African diaspora.
She is the author of "Wicked Flesh: Black Women, Intimacy, and Freedom in the Atlantic World." Her work has appeared in a number of journals including "Slavery & Abolition," "The Black Scholar", "Meridians: Feminism, Race and Transnationalism," "American Quarterly," "The Journal of African American History," and more.
Dr. Johnson is Founding Curatrix at African Diaspora, co-organizer of the Queering Slavery Working Groupwith Dr. Vanessa Holden, a member of the LatiNegrxs Project and a Digital Alchemist at the Center for Solutions to Online Violence.
At Johns Hopkins University, Dr. Johnson is co-convener of the Black World Seminar as well as convener of the Sex and Slavery Lab.
As a historian and Black Studies scholar, Johnson researches black diasporic freedom struggles from slavery to emancipation. As a digital humanist, Johnson explores ways digital and social media disseminate and create historical narratives, in particular, comparative histories of slavery and people of African descent.
Dr. Janelle Jennings-Alexander has been a teacher of writing and literature since 2009. She is a recipient of the McKnight Doctoral Fellowship and the NCTE Early Career Educator of Color Leadership Award.
Her research critically examines whiteness within the context of late 20th and early 21st century African American literature and explores the development of an anti-racism through literary study.
According to her biography, Dr. Jennings-Alexander "imagines that her theories on the intersections of whiteness and African American literature might serve as a tool for training antiracist social justice allies." Her research includes the "Raleigh Green Book" project which focuses on the use oral histories and storytelling to seek "historical reparative justice." Dr. Jennings-Alexander is a graduate of two HBCUs, Florida A&M University and Bethune Cookman University. She also holds a Ph.D. in Literature, Media and Culture from Florida State University.
---