ECSU Graduates Are Named Teachers of the Year
---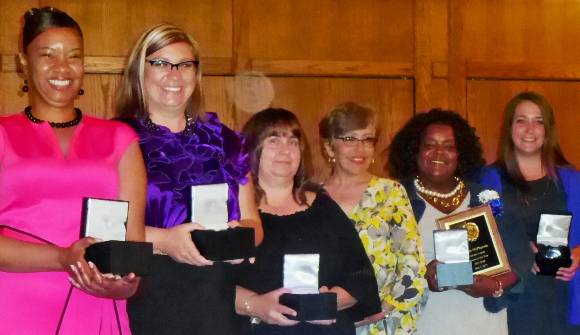 It's no surprise that Elizabeth City State University makes great teachers. That's the 126-year-old institution's legacy. So when the Elizabeth City Area Chamber of Commerce honored the area's teachers of the year on May 3 ECSU graduates could be counted among them.
During a ceremony at Mid-Atlantic Christian University ECSU graduates were among the top honorees as the area's Teachers of the Year as well as nominees from area schools. The Teacher of the Year from Camden County Schools Karen McPherson College of the Albemarle's Lucretia White and Elizabeth City-Pasquotank Schools Rachel Benton are all ECSU alums.
ECSU professor of history Glen Bowman was also among those honored for excellence in education.
ECSU graduates who were nominees for the annual award are H.L. Trigg Community School teacher Sharron Bell J.C. Sawyer Elementary teacher Stella Duhaime River Road Middle School teacher Tia Carver.
During the ceremony McPherson was lauded as a great teacher who brings joy to the classroom and to her students.
College of the Albemarle President Robert Wynegar said Lucretia White's students see her as a calming force as they navigate their way through their education. For White's part she says making a difference in her students' lives is the most exciting part of being named Teacher of the Year.
During his presentation ECPPS Superintendent Larry Cartner stated that Rachel Benton was a teacher with a passion for her students and education and that comes through in what she does. For Benton the fact that she teaches is reward enough she said.
Chancellor Thomas Conway celebrated Dr. Glen Bowman's honor and observed that this is just one of several honors given to the popular history professor this year. Bowman was also chosen as one of the UNC System's 2017 Teacher of Excellence honorees.
ECSU's tradition of educating teachers began as a part of its core mission upon its founding in 1891. The need for African American teachers was great and the Elizabeth City State Normal School (now ECSU) was created as a place to educate the educators.
That tradition lives on today. As the need for more teachers across North Carolina rises ECSU continues to provide its students with the opportunity to excel as educators and bring the same excellence to education that these alums have over the years.
---