ECSU Graduate William Sharpe III Inspires Psychology Students During Annual Psi Chi Honor Society Induction Ceremony
Posted On November 5, 2021
---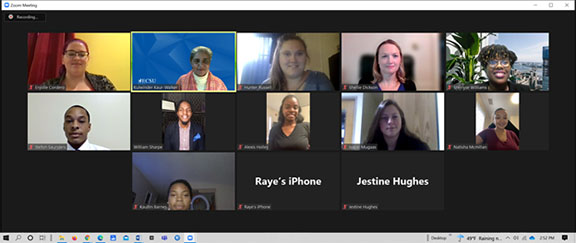 ECSU top psychology students were recently inducted into the Psi Chi International Honor Society in a virtual ceremony. ECSU psychology graduate, William Sharpe III, pictured second row, second from left, was the annual event's guest speaker.
William Sharpe III wants Elizabeth City State University psychology students to dream big, discover more and know that the world before them is "vast and plentiful." The ECSU psychology graduate told current students in the Psi Chi International Honor Society induction ceremony that if psychology truly sparks their interest, explore it.
"The sky is the limit is as it pertains to the lives, systems, and cultures that the students can impact through the world of psychology," he said.
Each year, ECSU psychology students are inducted into the university's chapter of the Psi Chi International Honor Society for Psychology. The ceremony, which took place virtually using Zoom Thursday, Nov. 4, was led by psychology professor and Psi Chi faculty advisor, Dr. Kulwinder Kaur-Walker, and out-going ECSU Psi Chi chapter president, Shellie Dickson. The event is an annual induction ceremony honoring the top students in the program.
This year's inductees are: Sydney Atwood, Enjolie Cordero, Alexis Holley, Isabel Mugaas, and Stefon Saunders. Ms. Mugaas will serve as the new chapter president, Ms. Cordero as the new Vice President, and Ms. Holley as the new treasurer.
During the ceremony, Mr. Sharpe spoke to the students about his experience and his career in the mental health field. An Elizabeth City native, he is a 2012 ECSU graduate who currently lives in Houston, Texas where he works for a community health organization and is a doctoral candidate in the Behavioral Sciences and Health Program at the University of Texas.
Currently a licensed professional counselor and National Certified Counselor, Mr. Sharpe says membership in Psi Chi compels him to "exude excellence as it relates to my field."
"Psi Chi has helped groom me to seek a higher level of scholarship while also allowing me to develop a greater sense of purpose," he said. "As a licensed professional counselor, I help people navigate daily problems and being a member of Psi Chi has raised my awareness as it relates to empirical findings which has further allowed me to incorporate academic knowledge and real-world statistics into real life practice."
According to Dr. Kaur-Walker, students who qualify for the Psi Chi International Honor Society must meet six requirements:
· Completion of three semesters or equivalent of the college courses;
· Completion of nine semester hours or equivalent of psychology courses;
· Ranking in the top 35 percent of their class in general scholarship;
· Have a minimum GPA of 3.0 (on a 4.0 scale) in both psychology courses and cumulative grades;
· Be an active member in the psychology club and other department/program related activities;
· Commitment to mentor the junior peers in the psychology program in addition to other voluntary activities at community and university level.
Mr. Sharpe says membership in the society has provided him with a "rewarding" network of peers. That network, he says, provides motivation and support, "two critical keys to success."
"Through Psi Chi, students gain exposure to a national network of like-minded in individuals and professionals who can help foster a successful career in the filed of psychology and behavioral sciences."
Through the society, current students gain access to opportunities to be a part of peer-reviewed studies and publish their work. Out-going chapter president, Ms. Dickson, recently received a $1,500 research grant from Psi Chi for her work with elderly populations.
"This is a distinguished honor for an ECSU student," said Dr. Kaur-Walker.
---