ECSU Graduate Todd Barker, Jr. Recipient of Newly Launched Omega Psi Phi Fraternity, Inc. Scholarship
---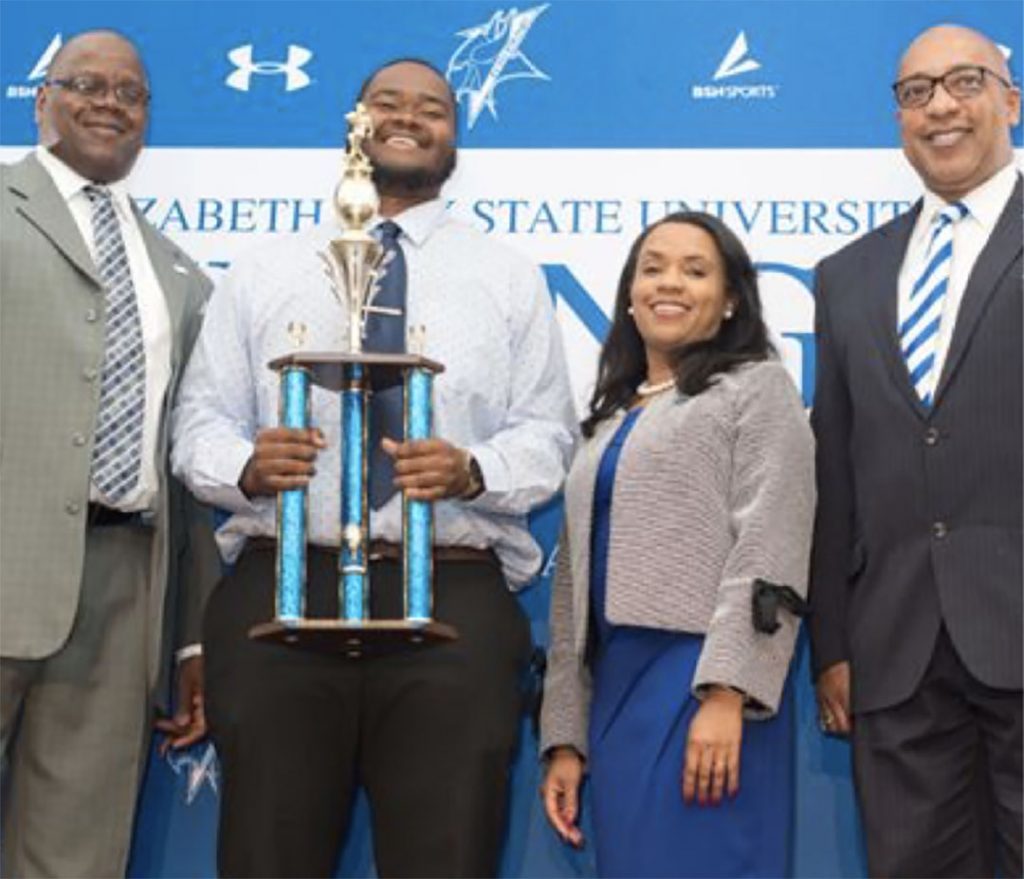 ECSU Class of 2020 graduate, Todd Barker, Jr., second from left, is the first recipient of the recently launched Omega Psi Phi Fraternity, Inc., scholarship. Pictured with Vikings head football coach, Anthony Jones, Chancellor Karrie G. Dixon, and athletic director, George Bright, Mr. Barker receives the Thurlis and Brenda Little award for best Offensive Lineman of the Year for the 2019 season at the annual Vikings Athletic Banquet ceremony. 
Recent Elizabeth City State University graduate Todd Barker, Jr. is the first-ever recipient of the Lambda Gamma Chapter of Omega Psi Phi Fraternity, Inc, newly launched scholarship. 
According fraternity member and ECSU alumnus, Thomas Parker, the fraternity was launched on the campus of ECSU in 1954. Fraternity members wanted to give back to their alma mater, so they launched the scholarship.
The scholarship, said Mr. Parker, was a "spontaneous" effort on the part of fraternity members, "to award a 'Mighty Viking' for graduating from ECSU."
Mr. Parker said scholarship applicants were asked to write an 800-1000-word essay. The subject of essay was "What Manhood, Scholarship, Perseverance, and Uplift" meant to the students. Mr. Barker, a member of the ECSU Class of 2020, and member of the Omega Psi Phi Fraternity, Inc., was chosen out of numerous entries.
Mr. Barker was also a member of the Vikings football team and golf team. A business administration student, he says he plans to pursue a career in corporate America.
Benefactors of this scholarship are ECSU alumni Richard Jackson, Demetric Wiggins, Thomas Parker, Zack Hawkins, Joe Johnson, Kevin Wade, Blake Little, Derrick Watkins, Ulysses Dewberry, Corey Miller, Jamar Lewis, and Terrence Thornton.
---