ECSU graduate students urge legislators to fund education generously
---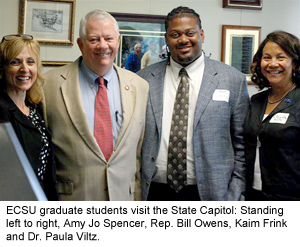 Kesha Williams
June 07, 2011
The state's graduate students and the administrators who oversee those programs garnered special recognition May 22 – 28 after Gov. Beverly Perdue issued a proclamation declaring the week as North Carolina Graduate Education Week and May 25, 2011 as Graduate Education Day. Two ECSU administrators and two ECSU graduate students traveled to the State Capitol to meet with legislators and to participate in a poster presentation session.
The ECSU students joined a host of other graduate students who presented posters and research projects that demonstrated the value of graduate programs to the state's economy. The team from ECSU met privately with Rep. Bill Owens and Sen. Stan White to discuss their research projects but later joined the other graduate students for a public display of their posters and an assembly, for all the participants.
Dr. Paula Viltz, professor and director of Graduate Education and Dr. Miles Fisher, project coordinator for the HBCU Masters degree Program Grant at ECSU accompanied Amy Jo Spencer, a spring semester recipient of a Masters degree in Elementary Education, and Kaiem Frink, another spring semester recipient of a Masters degree in mathematics, to the event.
Viltz said the event was held to recognize graduate student research but the timing of the event was important. North Carolina legislators were busy at the time considering proposals that would impact the amount of state funds would be allotted for higher education.
&quotWe had conversations with Owens right at the time that the General Assembly was convening. He shared his plan for higher education with us. We used our time to discuss with him the importance of graduate education and education in general,&quot Viltz said.
&quotThe graduate students from across the state shared research projects on topics related to education, the environment, health and societal well being, so there was plenty of information prepared for the legislators.&ampnbsp Most of all, we wanted show legislators how important education is to the economy and the state's advancement is many other ways.&quot
Spencer is a full time teacher who recently won a Teacher of the Year award for Pasquotank County. Frink taught some undergraduate math classes over the last year at ECSU. Frink said he simply wanted to personally inform elected legislators of the importance of graduate education options at the state's public institutions. Frink said prospective students at the middle school and high school level as well as their teachers should realize graduate research projects at ECSU can propel them to competitions and symposiums across the national and in other countries.
&quotResearch projects allow students to apply their knowledge and skills from math and science courses to practical challenges in the community such as identifying flood patterns and the best evacuation routes for citizens, determining how rising sea levels will affect coastal cities or something as complex as determining the reasons rust have been identified on Mars.&quot Frink said.
&quotMy research project began during my undergraduate years and lasted until I was a graduate student. It has been published by universities in the Netherlands, Johannesburg, South Africa and Japan&quot, Frink said. &quotOne of my undergraduate instructors told me it could lead me around the world and she was right. I enjoyed traveling abroad and I have learned so much from attending symposiums where government and for-profit research companies are also involved in similar research.&quot
---