ECSU Graduate Pursuing Passion in Theatre
---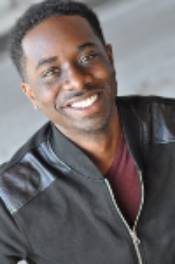 When Byron Coolie graduated from Elizabeth City State University in 2013, he left with a bachelor's degree in business administration, with a minor in theatre. It was that minor that would play a significant role in shaping the 25-year-old New Orleans native's future.
Back then ECSU offered a theatre minor and it was headed up by Billicia Hines. It was Hines's dedication to her craft and to sharing it with her students that captured Coolie's attention.
"I give her a lot of credit for how I turned out today," says Coolie.
And he turned out very well. Today, Coolie holds a Masters of Fine Arts in theatre from the University of Louisville in Kentucky. It is there that he is performing in three back-to-back Shakespearian productions: "Two Gentlemen from Verona," "Romeo and Juliet," and "A Winter's Tale."
It was during Coolie's senior year that he knew that despite his major in business administration, he would pursue what had become his passion, theatre. Working closely with Hines, Coolie says he and other students would spend long hours cultivating their craft as actors.
"Rigorous, long nights training with Billicia Hines," said Coolie.
It was then that, along with his friend Derrick Graham, he would write and produce his original production, "Schizophrenia." The production included eight scenes, 10 monologues and a performance by the ECSU Concert Choir. It took place in the spring, just before his graduation, and it would set in motion a future in professional theatre.
For stage actors, performing Shakespeare is the gold standard. The Bard, as he's known, crafted some of the most difficult dialogue to master, but also some of the most regarded plays in the history of live theatre. Much of modern theatre has been shaped by plays such as the ones Coolie is performing this summer.
And the performance schedule this ECSU graduate is undergoing is nothing if not rigorous. Because there are three plays back-to-back, Coolie says while one production is being performed, the theatre company spends its days rehearsing for the upcoming production. He has had only several weeks to rehearse and memorize his parts. It is the sort of training a professional actor looks for when he knows that his next step will be an even bigger one.
This fall Coolie will appear in a Louisville, Kentucky theatre company's production of, "River City." After that, he will head to Chicago where live theatre has offered opportunity for young up and coming actors such as John Malkovich and Gary Sinise, or comedians like the men and women who have made Saturday Night Live a cultural staple.
"I will move to Chicago to study at Second City and work with Steppenwolf Theatre," says Coolie. Second City is the comedy improvisational and skit troupe that while famous in its own right, has trained the likes of Stephen Colbert and Keegan-Michael Key, to name only a few. Steppenwolf is the theatre company founded by Malkovich and Sinise.
---