ECSU Graduate Programs See Significant Enrollment Increase
Posted On September 14, 2020
---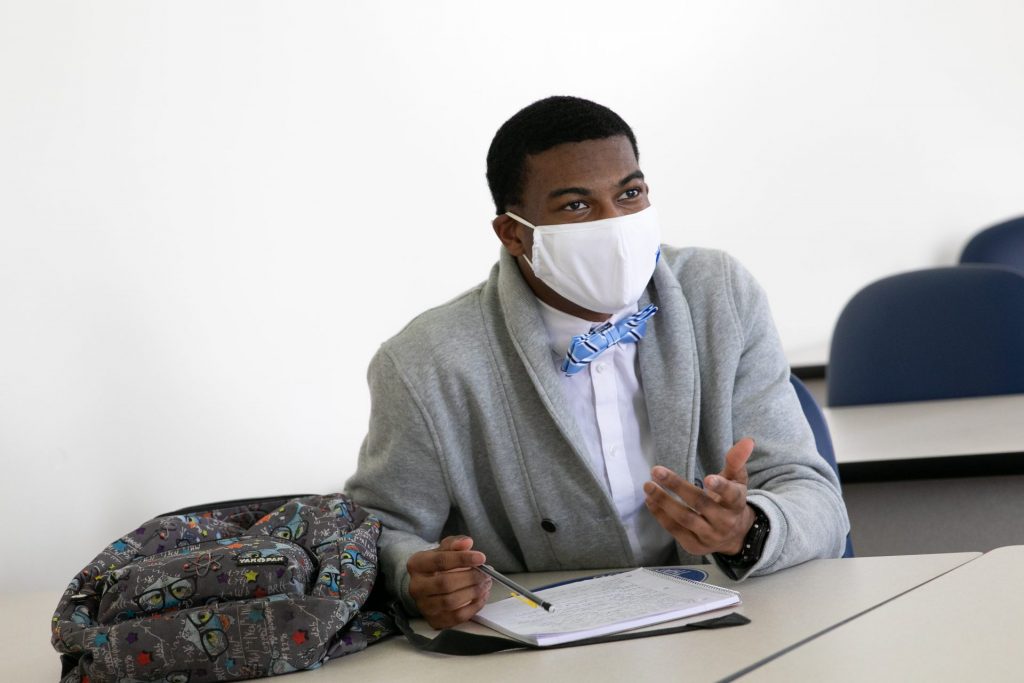 As part of Elizabeth City State University's fall 2020 enrollment increase, a growing number of graduate students are taking advantage of programs. Graduate program enrollment increased by 19.5 percent according to the fall 2020 enrollment census.
According to the Interim Associate Vice Chancellor for Academic Affairs, Dr. Gloria Payne, one of the driving factors behind an increase in graduate program enrollment is an improved infrastructure. She credits graduate program director, Dr. Tim Goodale, with creating a unit equipped to provide a quality graduate experience. 
"We have a full-time support staff and full-time graduate recruiter," said Dr. Payne.
In January 2019, ECSU began offering its first online Master of Education degree program. Dr. Payne credits the creation of this important program, in part, for the graduate student enrollment increase.
The 100 percent online program offers two concentrations: one for teacher leaders and another for initial certification. With total tuition less than $7,000, they are some of the most affordable online graduate teaching programs in the region.
The Master of Elementary Education Initial Certification Program is for anyone with a bachelor's degree that chooses to become an elementary school teacher. This route may also be utilized for those teaching middle or high school subject areas, interested in obtaining endorsement in Elementary Education.
The concentration in Teacher Leadership is for current classroom teachers with three years of experience. This program facilitates preparation and the submittal of portfolio for National Board Certification, which in North Carolina offers a 12 percent salary increase. An add-on endorsement for a Curriculum and Instruction Specialist is also integrated within this degree, and it allows teachers to advance their careers as central office administrators or in non-principal school leadership roles.
"You're talking about people who work and being able to get a Master of Education degree online is convenient and affordable," said Dr. Payne.
In addition to the Master of Elementary Education, ECSU also offers a Master of School Administration degree. Many of the region's public-school principals have graduated from this program and have gone on to lead K-12 institutions.
Last spring, despite the challenges presented by the COVID-19 pandemic, five program students successfully defended their required portfolios online and will go on to be administrators in northeastern North Carolina and elsewhere. According to ECSU Master of School Administration program coordinator, Dr. Kay Burks, graduates are eligible to apply for the North Carolina Level I Administrator Licensure for School Principals.
Dr. Payne also credits the award of a $1.2 million National Science Foundation grant to train science teachers. The grant, whose principal investigator is Dr. Goodale, was awarded last June. The grant will fund a program that produces qualified secondary science teachers that are better equipped to teach topics such as climate change and evolution.
"This project aims to recruit approximately 36 prospective students that will partake in a unique 14-month accelerated pathway to earn a master's degree in biological sciences and at the same time train to become certified teachers in science classrooms in high-need schools," said Dr. Goodale.
Dr. Goodale says the project will use "unique approaches" to attract qualified and diverse students to pursue a career as a science educator. Students will be supported with up to a $20,000 scholarship to cover cost of attendance during their respective study. The Noyce Program will provide research-based training and support initiatives for students during their studies and their first two years of teaching. The project will also identify, prepare, and compensate mentor teachers for working with ECSU students who will serve as role models for best practices.
ECSU also offers a Master of Science in Biology with concentrations in Applied Biology and Education, and a Master of Science in Mathematics with concentrations in Applied Mathematics, Community College Teaching, Remote Sensing, and Education.
ECSU has experienced the highest enrollment since the fall 2014 semester. According to the fall 2020 enrollment census, released Monday, Aug. 24, total enrollment is 2,002, a 13 percent increase over fall 2019's 1,773 students.
---