ECSU Grad Takes Her DIY Skills to NBC Reality Show 'Making It'
Posted On November 22, 2019
---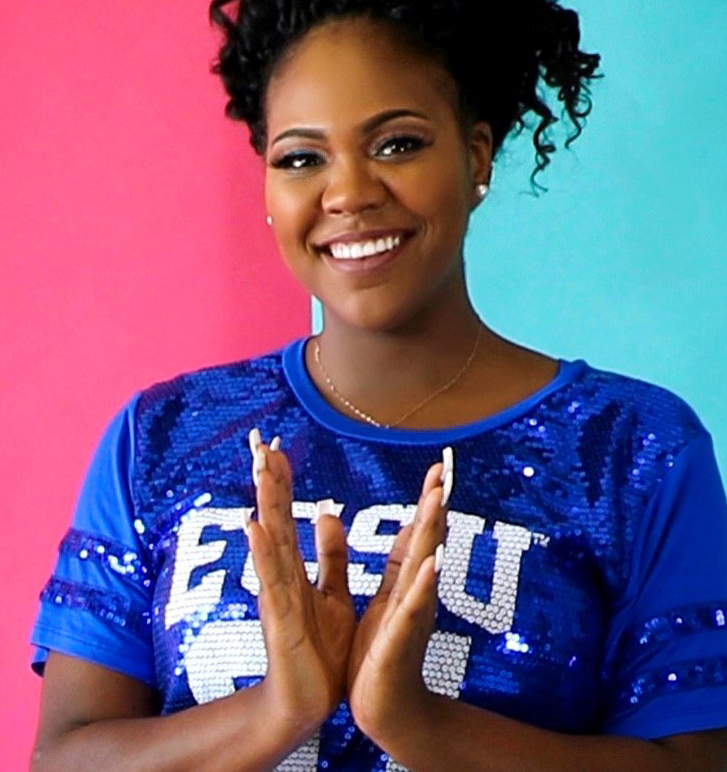 Ashley Basnight has been making a name for herself with her DIY (do it yourself) business, Handmade Haven LLC, and soon the nation will know her, too. Ms. Basnight, a 2013 Elizabeth City State University graduate, will appear as a contestant on the NBC reality show, "Making It," debuting Monday, Dec. 2.
"Making It" pits competitors together to produce DIY projects. Each episode, said Ms. Basnight, includes a smaller project and a big project, both to be executed within a specific timeframe.
"I think the experience was definitely eye opening," said Ms. Basnight. "It shows me how far I can push myself."
After graduating from ECSU with a degree in computer science, Ms. Basnight, a Currituck County, North Carolina native, landed a job as a software engineer with Boeing. Working from her home in Oklahoma City, Oklahoma, she began doing woodworking projects, launched her business, and was eventually featured in Better Homes and Gardens.
Ms. Basnight launched www.handmade-haven.com after looking for an affordable dining room table. She couldn't find what she was searching for so she built one herself.
She also didn't have any real experience with woodworking, but the Internet had everything she needed to make a start. She searched online and found a community of DIY people, and also found inspiration to start her own projects.
Ms. Basnight started by repurposing furniture, and then she jumped into creating her own, original pieces.
Since that time, she's become a popular go-to source for DIY projects. She blogs about her work on her website.
She has also been a fan of NBC's "Making It" since it debuted last year.
"I initially liked it because it was the only show geared toward DIY," she said. "I thought it was perfect for me because it was right in my (medium)."
Ms. Basnight filled out an online application and submitted a two-minute video of herself. She was accepted to be one of several competitors on the show.
Like with all reality shows, she's already recorded the episodes, but she's barred from discussing the particulars about the competition, the other contestants, or her own status as a "Making It" competitor.
That, however, doesn't stop her from raving about her experience on the show.
"I feel like I stayed true to myself," she said. "I pushed the limits and was really proud of myself."
Ms. Basnight says this season of "Making It" will run consecutively for two weeks and will premiere on all of the NBC affiliate stations Monday, Dec. 2 at 10 p.m. eastern time, and 9 p.m. central.
To celebrate her debut on network television, Ms. Basnight will join family and close friends for a private watch party. That party, however, is sure to be a Viking reunion since she's one of a number of family members who graduated from ECSU.
"Most of my family went to ECSU," she said.
As for Ashley Basnight' s future, she has her eye on building Handmade Haven into a full time business, but is keeping her day job until the time is right.
"I am definitely hoping to take the business full time," she said. "Right now it makes sense to do both."
You can also follow her work on her Instagram page, @smashingdiy.
---