ECSU Grad Honored on The Ellen DeGeneres Show for Teaching
Posted On January 12, 2017
---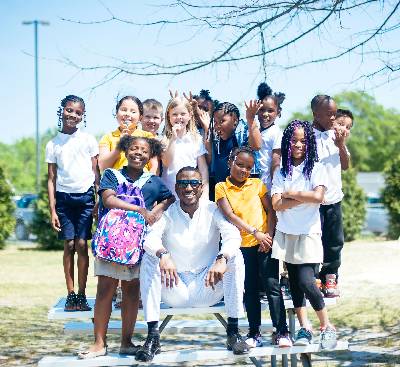 When Michael Bonner committed to three-to-four years teaching at South Greenville Elementary, not far from East Carolina University, the 2013 Elizabeth City State University graduate had some idea of what he was getting into. What he didn't know was just how much his job would change his life, and the lives of the kids in his classroom.
"I'm teaching at a school no one wanted to teach at," said Bonner, 26.
Bonner was speaking on his phone while waiting for a plane at the Los Angeles International Airport. The fact that he was flying from Los Angeles back to Northeast North Carolina is a by-product of the work he's done as a teacher.
That work, it turns out, is so special, and so significant, that The Ellen DeGeneres Show surprised him, and he was interviewed by the popular talk show host, a segment that aired Thursday, Jan. 12, 2017. But it's the story about what got him there, on the talk show, which has people talking about Michael Lee Bonner, a native of Perquimans County, North Carolina.
You see Bonner knew going in to South Greenville Elementary that there would be a challenge before him. Out of 36 schools in the Greenville, North Carolina school district, it was the least popular, and arguably the most troubled when it came to the kids.
"When I started the teachers would get together before school and pray," Bonner says, half joking, referring to the fact that they needed all the strength they could muster to push forward during the day.
At South Greenville Elementary, teacher turnover has been high in the recent past, says Bonner.
But none of that would deter Bonner. He was determined that he would reach his kids. At first, however, he wasn't seeing the results he'd hoped for in the test results. Standard teaching methods were not reaching these kids.
Bonner describes himself as outgoing. He knew that he had the personality to connect with the kids it's just that the standard teaching methods seemed to be falling flat. But the kids, he thought, love music.
So Bonner began using music to teach his kids.
"You have to find some way to engage," he said.
And he had found it. Bonner told his kids that if they performed well on their standardized tests, he would make a music video featuring them, and they song they created in class. That was their reward and they earned it. The music video went online and something happened. It went viral, and eventually caught the attention of his local television CBS affiliate, and that led to the CBS national news desk picking it up, which led to exposure to one of the producers with the Ellen DeGeneres Show.
The producer told Bonner they were sending a crew to interview his kids for an online series they were producing. As a thank you, they would send him to Los Angeles as a guest on their show. Of course the whole thing was a ruse, and Bonner became a special guest on the show, highlighting and celebrating his efforts as a teacher.
Ellen DeGeneres presented Bonner and his school with technical equipment to help them continue creating videos and as aids to education. Wal-Mart, says Bonner, presented the school with $25,000, and the show set up a Go Fund Me site for South Greenville, to aid in needed funds.
All of this, says Bonner, points to something very significant not only to him, but also to the kids he teaches. He says coming from Perquimans County, he understands poverty. His mother enrolled at ECSU at 30 and earned a social work degree. That decision changed the course of his family's future.
"To break the cycle of poverty, education is the number one tool," he said.
---