ECSU gives to the community
Posted On December 14, 2010
---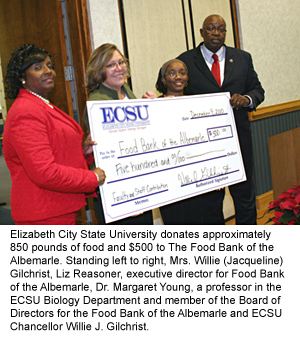 Kesha Williams
December 14, 2010
Tis the season for holiday celebrations and for giving. When ECSU decided to have a scaled-down holiday celebration for faculty and staff, event organizers Ms. Joyce Shaw, chairperson of the Staff Senate, Ms. Gwen Sanders, executive assistant to the Chancellor, and Ms. Sherri Belfield, director of marketing, saw an opportunity for ECSU employees to give back and help strengthen our local communities.&ampnbsp As a result, Food Bank of the Albemarle has additional canned goods for its shelves and funds to purchase additional food for residents in the northeastern North Carolina.
More than 300 ECSU employees came together to share their talents and a holiday lunch on December 9 at the K.E. White Graduate Center. Entertainment included a holiday choir comprised of ECSU employees, performances by faculty from the ECSU Department of Music, vocal selections by staff members and lessons in line dancing. Seven employees were lucky winners of door prizes that included tickets to the CIAA Tournament and tickets to the ECSU Foundation Scholarship Gala.
Faculty and staff were excited to have a time of sharing among colleagues serve as an occasion to help others. Each employee was asked to bring at least $1 and at least one canned food item to the lunch. The response was overwhelming. At the end of the event, Dr. Gilchrist presented Liz Reasoner, executive director of Food Bank of the Albemarle with $500 and more than 850 pounds of food collected at the event.
Chancellor Willie J. Gilchrist said he is delighted that university employees could make this donation from a one-day food drive to support area residents. &quotThis gift to Food Bank of the Albemarle from our employees shows how much our faculty and staff care about our local communities,&quot Gilchrist said. &quotOur donation to the Food Bank will have a direct impact in our region by providing resources that will allow the organization to assist families in need during this holiday season. Even though times are difficult for many people, I am happy that our employees are willing to help those who are less fortunate in the true spirit of the season.&quot
Other clubs and organizations at the university have also been busy collecting for area charities:
The Social Work club held a holiday food and coat drive for select families in the region. Students enrolled in Field Education and Seminar work with community and faith-based agencies to identify three families who received food baskets for Thanksgiving. On December 22, the social work students will provide food baskets to nine families and donate coats to The Salvation Army.
The Psychology Club and Psi Chi held a toy drive for area children. Toys were delivered to the Department of Social Services and the Women's Shelter.
Students in the Department of Psychology collected approximately 600 canned goods to donate to Amen Ministries.&ampnbsp The food drive was organized by Drs. Ronald L. Poulson and Jill Haasch.&ampnbsp
ECSU Clubs and Organizations participated in The Salvation Army Holiday Bell Ringing&ampnbspon Dec. 1st and Dec 2nd at Wal-Mart. The students in those clubs and organizations raised $2,000 during the event. The following organizations participated:
ECSU Mass Media Club
American Marketing Association
Gamma Sigma Sigma
Alpha Phi Alpha
National Association of Black Accountants
Freshman Class (Class of 2014)
Groove Phi Groove
Alpha Phi Omega
Community Relations Committee
Delta Sigma Theta
Student Government Association (T.E.A.M.)
Vike Nu Fashion Troupe
Sophomore Class (Class of 2013)
Phi Beta Sigma
National Association for the Advancement of Colored People ECSU Chapter
Existence Modeling Troupe
Nu Gamma Psi
I.N.T. Dance Troupe
Sigma Gamma Rho
Kappa Alpha Psi
I.N.K.
Library Club
PRIDE Competitive Cheerleading SquadPre Alumni Association
University Police worked with staff at four local daycare centers to identify children in need. &ampnbspToys, coats and clothes will be donated to the preschoolers.&ampnbsp Donations will be accepted until December 20 at the Thomas Jenkins Building.
---