ECSU Foundation Board Welcomes Two New Members
Posted On September 22, 2021
---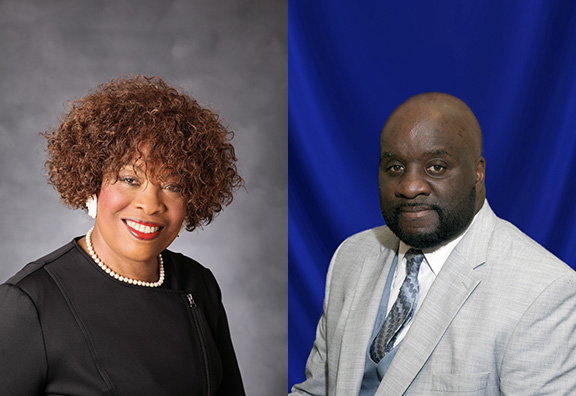 Dr. Sadie J. Carter, left, and Mr. Elston Ray Howell are the ECSU Foundation board's newest members.
Two new members have joined the Elizabeth City State University Foundation board of directors. According to ECSU Vice Chancellor for University Advancement, Anita Walton, Dr. Sadie J. Carter and Mr. Elston Ray Howell are the board's newest members.
"This is a time of great growth at ECSU and we are so grateful to our new Foundation board members for joining us in this journey. The work these men and women of the board do is so important to the future of our students," said Ms. Walton.
Dr. Carter is a 1972 graduate of ECSU, with a Bachelor of Science in Elementary Education. She earned her doctorate in education from Virginia Polytechnic Institute and State University in 2003.
Currently serving as human resources director for Action Pathways in Fayetteville, North Carolina, Dr. Carter is the former associate Vice President for Human Resources at Saint Augustine's University in Raleigh, where she also served as an adjunct professor in the school of business.
Throughout her early career, Dr. Carter was Director of Human Resources for Johnston County Public Schools and the director of alternative education for Newport News Public Schools in Newport News, Virginia, where she also served as the school district's coordinator of Human Resources.
Born in Brooklyn, New York, Mr. Howell was raised in Tarboro, North Carolina and graduated from ECSU in 1988 with a degree in computer and information sciences. Upon graduation, he would move to Raleigh where he would work for the North Carolina Department of Health and Human Services before retiring after 25-plus years.
Currently, Mr. Howell serves as the vice president and chief of operations and finances for Spoken-4 Communications, LLC, a pediatric occupational and speech language therapy clinic. He is co-owner of the clinic with his wife, Lisa Smallwood Howell. 
Mr. Howell is a past recipient of the ECSU Community Service Award, the Viking Pride Award, and is past president, vice president and recording secretary for the Raleigh-Durham-Wake Chapter of ECSU alumni. He also served as a First-Vice-President of the National Alumni Association, an ECSU License Plate Initiative Committee member, an ECSU Planned Giving Participant and an 1891 Legacy Society member. 
---