ECSU Flight Instructor Brenna Daniel Awarded National Collegiate Flying Association Regional Coach of the Year Honors
Posted On October 29, 2021
---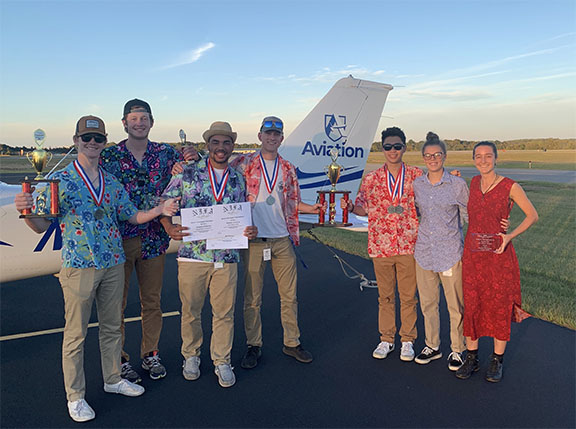 Brenna Daniel, far right, was named the National Collegiate Flying Association Regional Coach of the Year at the recent Region 10 competitions. She is pictured with the ECSU flying team, aviation students who will go on to compete in the nationals in the spring.
Brenna Daniel would rather talk about her award-winning flight team than the fact that she just won the National Collegiate Flying Association Region 10 Coach of the Year honors. And that's fitting, really, when you think about the fact that it was her Elizabeth City State University aviation science students that nominated the program graduate and current flight instructor for the top-flight coach honors. 
The ECSU team competed in the recent National Collegiate Flying Association, or NIFA, competition in Danville, Virginia. Ms. Daniel was nominated by the students that comprise the winning ECSU team, but she hasn't read the nominating letters yet, because it might be emotional for her.
"When they announced it, they said the submissions had been really well done and I knew," she said. "It was really very exciting."
NIFA is comprised of 10 regions and holds regional competitions ahead of a national gathering next year. ECSU has competed in the past, but with COVID-19, and other considerations, it's been several years since the aviation students have tested their skills in a variety of categories.
Ms. Daniel said she was determined to get ECSU's team into the competition, but it was a last-minute decision. That gave aviation students one month to prepare for competitions in a variety of areas such as precision landing, navigation, flying skills, and ground events like identifying different planes.
"They did really well," she said. "The other schools had been training for a year."
The fact that ECSU's team did really well means they will move on to the national competition in the spring. That event will be held at Ohio State University, and the NIFA Region 10 Coach of the Year, Brenna Daniel, will be with them, coaching and guiding them just as she's been doing this semester.
Years ago, Ms. Daniel had been dreaming of becoming an aviator and had mentioned flying lessons to her parents. But the proposition of taking lessons sounded expensive and unfeasible. As the end of her senior year of high school approached, and she was planning on majoring in English at a college near her home in Western North Carolina, her father, state Sen. Warren Daniel, had heard from a colleague in the North Carolina General Assembly about ECSU's aviation program. 
She and her mother toured the ECSU campus, and with the promise of a career in aviation from the only four-year program in the state, coupled with the NC Promise Tuition program, her dreams were about to become a reality.
Aviation students who graduate from ECSU with a bachelor's degree, typically also graduate with a private and commercial pilot's license, as well as a flight instructor license. Graduates like Ms. Daniel will go onto become ECSU flight instructors, allowing them to not only accumulate needed flight hours that will help qualify them for a job as a commercial pilot, but also share their experience and knowledge with current students.
That's where Ms. Daniel is on her journey to become a commercial pilot. She graduated in May 2020 and since that time she has been here, in Elizabeth City, training other future pilots. 
She has a year and a half as a flight instructor left before she goes on to fly for a regional airline – a job that she says will eventually lead to a job with a major airline like United.
During her time as an instructor, Ms. Daniel has been developing relationships with the current students, which has culminated in ECSU's NIFA team. This current team, she says, is a good group of pilots and they deserve a lot of praise for their hard work.
Since she will be around for the next year and a half, it's reasonable to say that she will continue to lead this award-winning team of pilots to future NIFA events. However, when she's gone, it will be incumbent upon the next coach and group of students to be motivated enough to continue with the competition.
She hopes they choose to continue on this winning flight path.
"I hope someone comes along and cares about it as much as I do," she said.
And it's that caring for the program, and her team, that led to her nomination and ultimately, being named NIFA Region 10 Coach of the Year.
---