ECSU, First United Methodist Partner to Educate Choral Students
Posted On November 13, 2018
---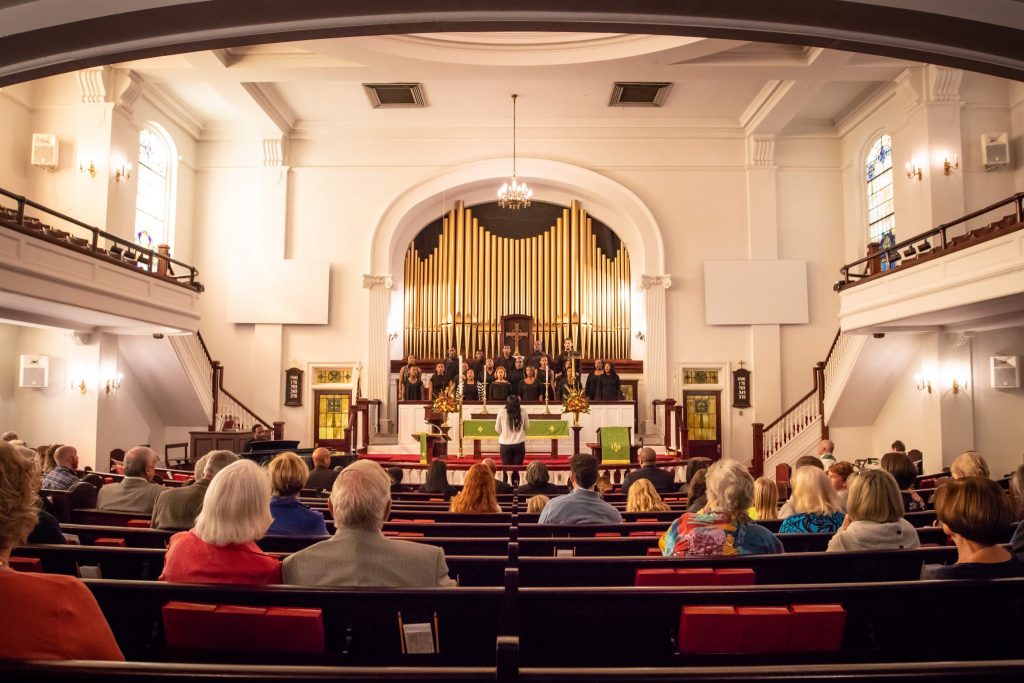 The ECSU Concert Choir performs at the Elizabeth City First United Methodist Church during Homecoming Week. Six ECSU music students have received a scholarship and internship from the church.
The sound of Viking students can be heard each Sunday at the Elizabeth City First United Methodist Church. And those students, who are singing in the church choir, are getting more than an opportunity to have their voices heard; they're also getting a big boost in their education thanks to a scholarship and internship set up by the church council.
The church has made an annual $15,000 scholarship commitment to six ECSU students, according to church lay leader, Sandra Ray.
According to Ray, a deceased member of the congregation had left a sum of money to be used as a music scholarship, and this year six ECSU students have benefited from this gift.
Ray says the scholarship has been in place for several years, but this is the first year it was extended to ECSU students. ECSU's professor of music and choir director, Dr. Walter Swan, is the music director for First United Methodist, and the church thought the scholarship would be a good way to building a partnership with the university.
"It just so happened that Walter is the choir director," said Ray. "He pointed out students who could benefit."
Ray says the church created the First United Methodist Church Music Scholarship Foundation, which benefits the six students. In addition to the scholarship, the church also created a musical internship for each students, allowing them a stipend in exchange for performing each Sunday in the choir.
Each Sunday ECSU concert choir members Derrick Moore, Kelsey O'Brian, Brittany Stallings, Angenea White, Samayah Ellerbe, and Martin Winston all perform as part of the church choir. These students have been awarded $1,000 each, annually, and also receive an annual stipend of $1,530 as part of their internship.
With the N.C. Promise Tuition Program in place, the scholarship and internship more than covers annual tuition for in-state students, and provides out-of-state students with their annual $2,500 tuition cost.
Ray says for the church, the establishment of this scholarship and internship program, while benefiting the students financially, runs deeper than dollars and cents.
"The emphasis is no so much a dollar value, but being a partner in the community, working with the university, and partnering in music," said Ray.
During the 2018 Viking Homecoming celebration in October, the ECSU concert choir, under the direction of Dr. Swan, performed at First United Methodist Church. Each Sunday the six students also perform under Dr. Swan's direction.
---