ECSU Emergency Management Professor Working with National Task Force on the Frontlines of COVID-19 Outbreak
---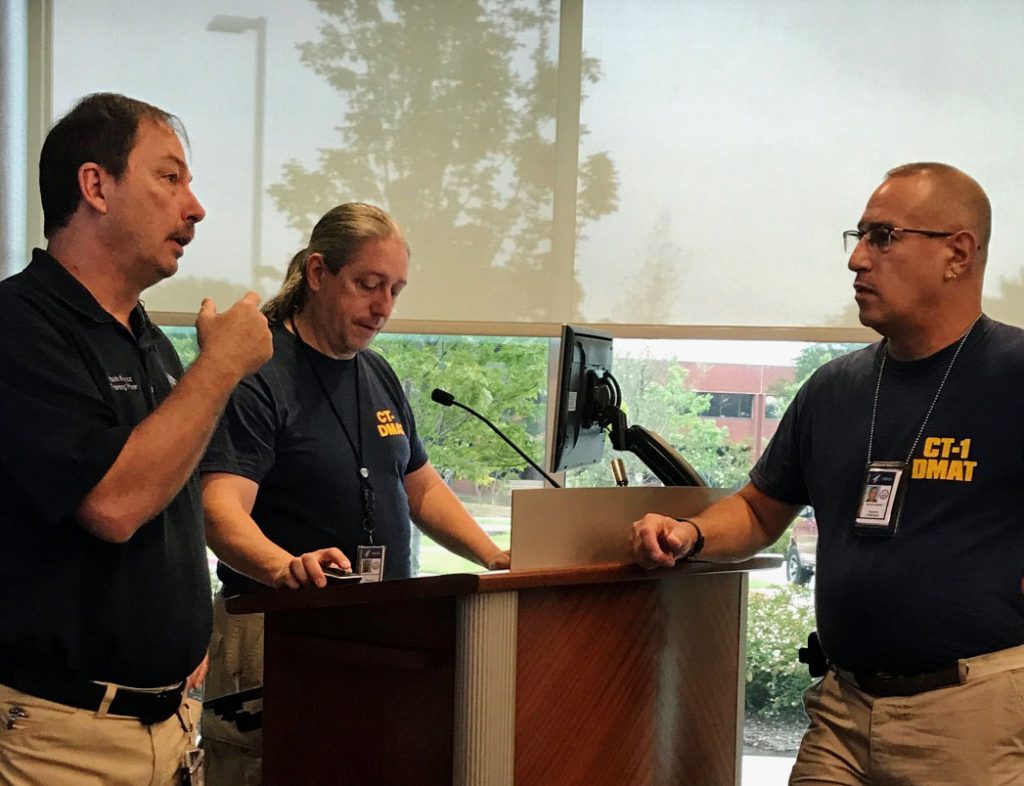 Emergency management professor Dr. Kevin Kupietz, left, has recently been deployed to work with a national task force during the COVID-19 crisis.
Elizabeth City State University emergency management professor, Dr. Kevin Kupietz, is no stranger to working in the field during times of natural disasters, such as his stint in Houston as they struggled with the devastation wrought by Hurricane Harvey in 2017. Now, during the COVID-19 crisis, he is once again being deployed as part of a FEMA national response team, working on the frontlines. 
Since the COVID-19 crisis came to the United States and communities across the country began shutting down in hopes of stemming the spread of the virus, Dr. Kupietz has been deployed to aid victims and potential victims of the virus. Working with a national taskforce to provide aid, he has been deployed to Alabama and then to Georgia.
"We went to Alabama to set up an alternate care site for passengers from the original cruise ships which were positive for Coronavirus," he said.
The site is designed to make the people comfortable, provide medical care, food, fresh air and basic amenities, all while keeping them isolated from the general population. The passengers were, he said, eventually moved to a similar site located on Bobbins Air Force Base in Bobbins, Georgia.
Dr. Kupietz said when the federal taskforce began setting up sites such as the one in Georgia, they thought the virus would be contained to a small portion of the population.
"But then," he said, "we realized that everyone has the potential to be infected."
While working with the cruise ship passengers, Dr. Kupietz says he worked with medical records and transportation logistics. He also worked with a food team.
"Feed the customers," he said. "The people that have potentially been exposed (to the virus)."
Dr. Kupietz said they were feeding 500 people per day. The food was prepared and then delivered directly to the passengers, so they wouldn't congregate and they could continue practicing social distancing. The effort to feed them, he said, saw him and his colleagues working from 6 a.m. to 8 p.m. each day, without a break in their activity.
After working in Georgia, Dr. Kupietz went home and isolated for two weeks. That is, he says, "the safest thing to do."
Now the ECSU emergency management professor is on stand-by. Men and women working on national emergency task forces, in the case of the virus, are waiting two weeks before being redeployed.
Dr. Kupietz says people need to understand that this is a national and global crisis and that everyone has the potential to be exposed to the virus and contract it. He says people need to understand that this pandemic signals a need for change.
"The thing to me that is significant about this is the fact that it shows the need to change the way we do things in our culture, in our society," he said. "The traditional handshake, for one. If we are concerned about the virus or other germs, we need to remember that we exchange those through our hands."
He says people need to take COVID-19 seriously.
"You can't put a price on life," he said.
While Dr. Kupietz is thinking about his next potential deployment, he is still a professor and ECSU students are now working online. His students are receiving the benefit of his experience.
"Our class (Emergency Management 240) actually worked as an incident management team, conducting a classroom exercise on how they would isolate the university and what procedures they would put in place to prevent the spread through the campus," he said. "In our EM 224 law and ethics class, we have used the daily news of COVID-19 from the start of the semester to relate to the lessons of the book."
Dr. Kuptietz says that the global outbreak has been an excellent means for his students to learn firsthand how emergency management operates during times of crisis.
---