ECSU Education Department prepares local educators for new state guidelines
---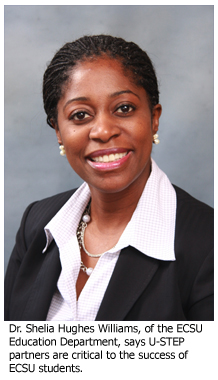 Kesha Williams
April 19, 2010
Preparing outstanding teachers has been a major goal of Elizabeth City State University during its 119-year history.
That quest continues today, as the university gears up to meet new North Carolina state education department requirements for college students headed to the classroom. This summer, ECSU will host a Reading Strategies workshop to boost skills in teaching reading.&ampnbsp&ampnbsp
Also planned is Effective Teacher Training for Substitutes, a workshop aimed at helping teachers who step into classrooms for short-term stints to be better equipped in classroom management, science and math, and technology.
Both workshops will be arranged by ECSU's University-School Teacher Education Partnership, which is led by Dr. Shelia Hughes Williams. The idea for the workshops emerged from discussions held March 31 by members of the partnership, or the University-School Teacher Education Partnership (U-STEP) on how to help ECSU's teacher candidates meet the new state requirements.
Each year, ECSU education majors observe and practice teaching in public school classrooms within the 12 counties that are part of U-STEP: Bertie, Camden, Currituck, Edenton/Chowan, Gates, Halifax, Hertford, Northampton, Pasquotank, Perquimans, Washington and Weldon.
About 80 ECSU students complete the Teacher Education program each year.
The new state Department of Education requirements call for evidence that each teacher candidate demonstrates six key proficiencies prior to program completion, Dr. Williams explained.
&ampnbspAmong them are &quotmaking a positive impact on student learning&quot and &quotleadership and collaboration.&quot Each student-teacher must design and complete a project within the school system that demonstrates his or her knowledge and skills in leadership and collaboration.
While university faculty will evaluate each project, state education officials also will randomly select a project to review for program, Dr. Williams said.
U-STEP partners will be critical to the success of ECSU students by helping them with choosing and carrying out these projects, she said. Already, the university has had to revise its course work and curriculum to meet the new state requirements, Dr. Williams said.
The U-STEP meeting, ­- a first since the new state changes for representatives from all 12 school districts to meet collectively – discussed the new state requirements and their implications for each school district and the ECSU student-teachers in their classrooms. About 50 school teachers, principals, assistant principals and human resource directors attended the meeting.
&quotThey helped decide what project areas would be best for ECSU students to develop within the schools because we want it to be something they can use,&quot Dr. Williams said. &quotWe're listening to what they need and we're trying to accommodate them.&quot The future workshops on teaching reading and skills for substitute teachers are outgrowths of the feedback, Dr. Williams noted.
&quotThe collaboration is very important,&quot said Dr. Williams. &quotOur job is to work together and produce a highly qualified teacher. And it takes the university, as well as the schools, to develop that.&quot
---