ECSU, Edgecombe Community College Sign Co-Admission, Degree Program Agreements
---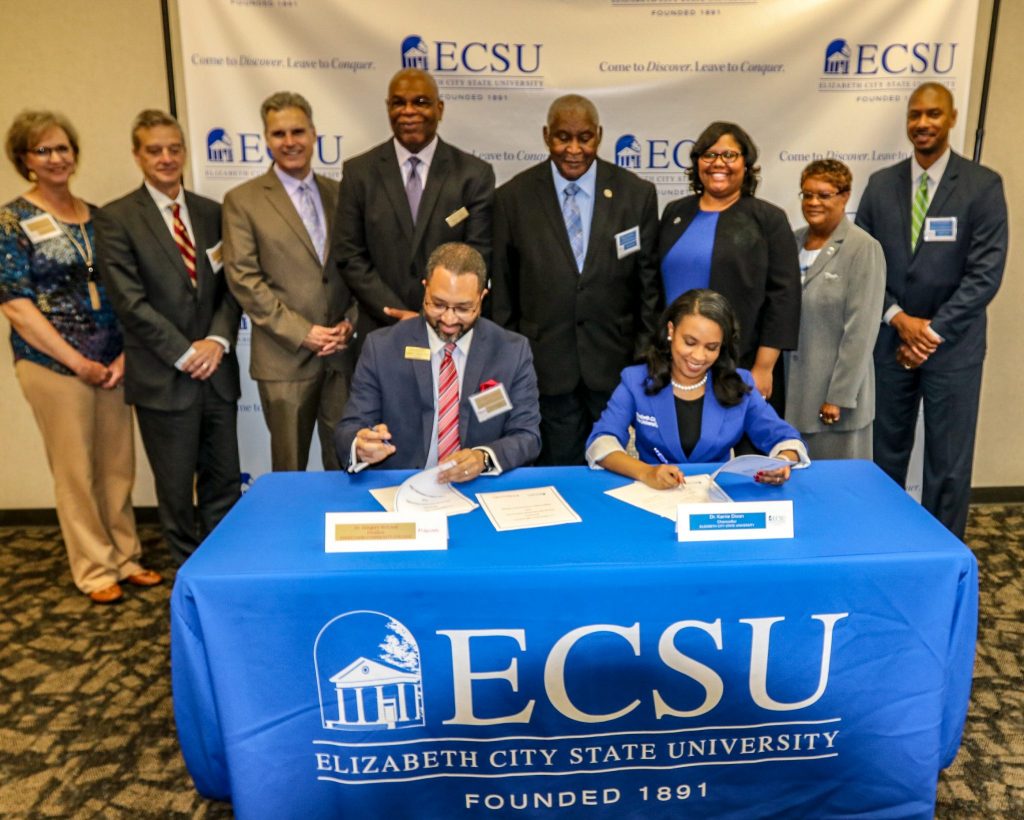 Edgecombe Community College president, Dr. Gregory McLeod, left, and ECSU Chancellor Karrie Dixon sign four agreements Monday, April 29. The agreements will allow the two institutions to work together toward a seamless path to a bachelor's degree for graduates of Edgecombe.
When the administrators from Elizabeth City State University and Edgecombe Community College came together Monday, April 29, the buzz of enthusiasm filled the room. The two institutions met on the ECSU campus to sign agreements to enhance the education opportunities for students in the Northeastern North Carolina region.
The signing of four agreements between ECSU and Edgecombe is designed to give community college students a clear path to ECSU, whether they transfer to campus, or remain in the Rocky Mount area and complete a degree online.
Attended by ECSU and Edgecombe Community College officials, the signing ceremony highlighted criminal justice, business administration, birth-to-kindergarten education, and a co-admission agreement designed to allow students to be admitted to ECSU and Edgecombe simultaneously, and then move to the university upon the completion of their associate's degree.
Both the criminal justice and business administration programs include an online degree completion component.
"We are demonstrating one of the many ways we can collaborate and provide career paths to the students we serve," said ECSU Chancellor Karrie Dixon.
Edgecombe Community College students who complete their associate's degrees in either program may continue onto their bachelor's degree work online, without leaving their home in the Rocky Mount area.
The birth-to-kindergarten program, however, will require students pursuing their bachelor's degree in early childhood education to attend classes on campus. That program involves hands-on class work at ECSU's early childhood laboratory.
"At Edgecombe we are dedicated to fulfilling the needs of our students," said Edgecombe president, Dr. Gregory McLeod. "We are working to move them forward and we look forward to a strong, successful and long-lasting relationship with ECSU."
ECSU department heads, and students, made presentations to the crowd of administrators and educators, highlighting the success of the university.
Dr. Chyna Crawford, chair of the ECSU Department of Social and Behavioral Sciences, outlined what her department offers through the Criminal Justice Program. Highlighting the program's achievements, she observed that students enrolling at ECSU are participating in a strong program designed to provide them with the best possible education in the field.
"Our program is top notch," she said. "It is one of the best, if not the best, in the state."
ECSU Criminal Justice student Trevoy Shaw transferred to the university from his home in Hollywood, Florida. He said at first he was apprehensive about coming to a small town, but quickly realized that not only was he receiving solid academic experience, he was also finding a home at ECSU.
"It's a very family-oriented community," Shaw said of ECSU.
Shaw has had multiple internships since becoming an ECSU student. He will spend the coming summer as an Elizabeth City Police Department intern as well.
Other students echoed Shaw's experience. Transfer student Alisha Matthews said her professors and advisors have been there for her on both an academic and personal level, and that has made all of the difference for her as a student.
Other students to speak during the signing ceremony were Tony Mitchell, Michelle Nowell, and Wilmon Lee.
---