ECSU Drug Information Center Celebrates American Heart Month
Posted On February 24, 2017
---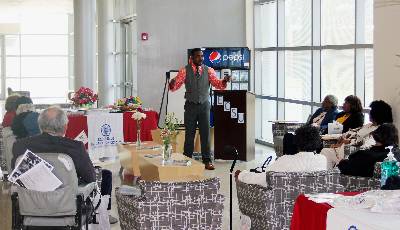 Reaching out to the communities that surround Elizabeth City State University is a part of the campus mission. That's why when ECSU Drug Information Center director Dr. Anthony Emekalam was planning activities for American Heart Month he knew bringing area senior citizens in for a "lunch and learn" about heart health was the right thing to do.
To celebrate the American Heart Month area residents gathered in the lobby of the Pharmacy Complex Thursday Feb. 24. Dr. Emekalam captured their attention with important information about their health.
During the session Dr. Emekalam talked about the importance of taking good care of the heart by controlling blood pressure blood sugar and stress management. He said that there are several simple everyday disciplines that can greatly help to keep blood pressure under check including routine engagement in physical activity sensible eating habits and taking medications as prescribed by the physician.
About 20 community residents attended the 1 hour session which was facilitated by Shirley Brown RN. Ms. Brown is in charge of everyday operations of the center. The ECSU Drug Information Center is located on the ground floor of the pharmacy complex and is open to the public Mondays through Fridays from noon to 5 p.m.
---