ECSU Doubles Fundraising, Shatters University Records
---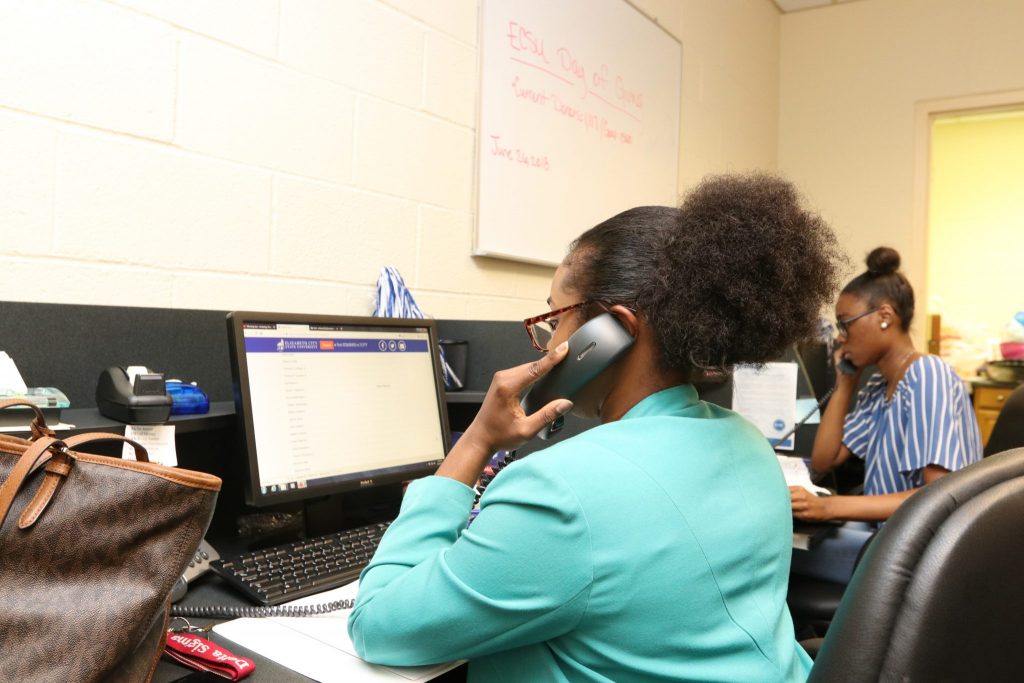 Students work the phones during the 2018 ECSU Day of Giving campaign in June. ECSU has doubled its fundraising efforts, according to Vice Chancellor for University Advancement, Dr. John Michael Lee, Jr.
Elizabeth City State University is on the move and shattering university fundraising records, while moving in an exciting new direction under the leadership of Interim Chancellor Dr. Karrie G. Dixon. During the 2017-2018 year, ECSU doubled its efforts, raising nearly $1.5 million.
When Dr. John Michael Lee, Jr. arrived at Elizabeth City State University in February 2017 as the Vice Chancellor for University Advancement and Executive Director of the ECSU Foundation, giving was down more than 18 percent. But Lee took a quick assessment of the Division of University Advancement and decided to move aggressively, and concluded the 2016-2017 fiscal year with a big increase in giving.
During that period ECSU saw over $700,000 in giving and a 14 percent increase in giving, as well as an increase in the Alumni Giving Rate. The number of alumni who gave increased from 722 in 2015-2016 to 1,081 donors in 2016-2017, an increase of 50 percent.
"We came together as a team despite limited resources and staff, and we decided that we were going to finish the year strong," said Lee. "We decided to be innovative in our approach to fundraising, including creating new, blended opportunities for alumni engagement and giving. While we were pleased with the results, we were not satisfied"
The University Advancement team then came together to plan for the 2017-2018 fiscal year and developed a strategic plan. Throughout the 2017-2018 fiscal year, the ECSU Division of University Advancement implemented an innovative fundraising approach.
"ECSU partnered with the ECSU National Alumni Association and other key stakeholders to increase fundraising," said Dr. Jeanette H. Evans, Chair of the ECSU Foundation Board. "ECSU was named a Tom Joyner School of the Month for February 2018 and raised over $89,000 for student scholarships thanks to the support of lead donors that included the Elizabeth City Area Convention & Visitors Bureau, the ECSU National Alumni Association, the ECSU Retiree's Association, ECSU Trustee Dr. Stephanie Johnson, the North Carolina Department of Transportation, Pepsi Bottling Ventures, LLC, Matthew Lewis, Jr and Spoken 4 Communications. This was truly an 'All In' effort."
The annual ECSU Founder's Day Gala in February 2018 was filled to capacity, and was responsible for generating a record $215,000 in revenues to support university scholarships. The ECSU Advancement team culminated the 2017-2018 year with the 2018 ECSU Day of Giving, which set a new record for a single day of fundraising with more than 1,800 donors giving more than $227,000 to the university.
These efforts have led to ECSU doubling its fundraising with over $1.431 Million in gifts to the University during the 2017-2018 fiscal year compared to only $713,698 during the previous fiscal year, a 101 percent increase in giving. This represents the third highest fundraising total in the history of the university. ECSU also had 1,415 alumni donors to donate this year compared to 1,081 last year. This represents a 32 percent increase in alumni gifts, and ECSU has achieved an Alumni Giving Rate of 11.2 percent during the 2017-2018 fiscal year compared to 8.31 percent last year. This new alumni giving rate will place ECSU third among all 17 UNC System institutions.
"This show of support in real dollars and sheer numbers is a testament of the love and support that Viking Alumni have for their 'Dear Alma Mater'," said Abdul Rasheed, President of the ECSU National Alumni Association.
"Alumni are excited about the University's new direction, the beautification of the campus, the improvements to financial aid and enrollment management processes and procedures, and the renewed focus on student recruitment and retention as a proud North Carolina Promise institution," added Lee.
ECSU also set a new record for the highest number of gifts received by the university, at 4,440 number of gifts breaking the previous record of gifts of 3,021. ECSU had over 2,159 unique donors to the university in 2017-2018 compared to 1,634 last year; a 32 percent increase.
ECSU is also increasing investments to the university from corporations and foundations. During the 2017-2018 fiscal year, 57 corporations and foundations invested more than $681,000 into the University; an increase of 479 percent.
"This is a great time to be a Viking! We are transforming and heading towards greater possibilities," said Interim Chancellor Dixon. "The support displayed by the entire ECSU Community through giving is an example of the all-in approach that we are implementing here at ECSU. Together, we are enhancing our efforts and heading towards a brighter future, full of possibilities."
---