---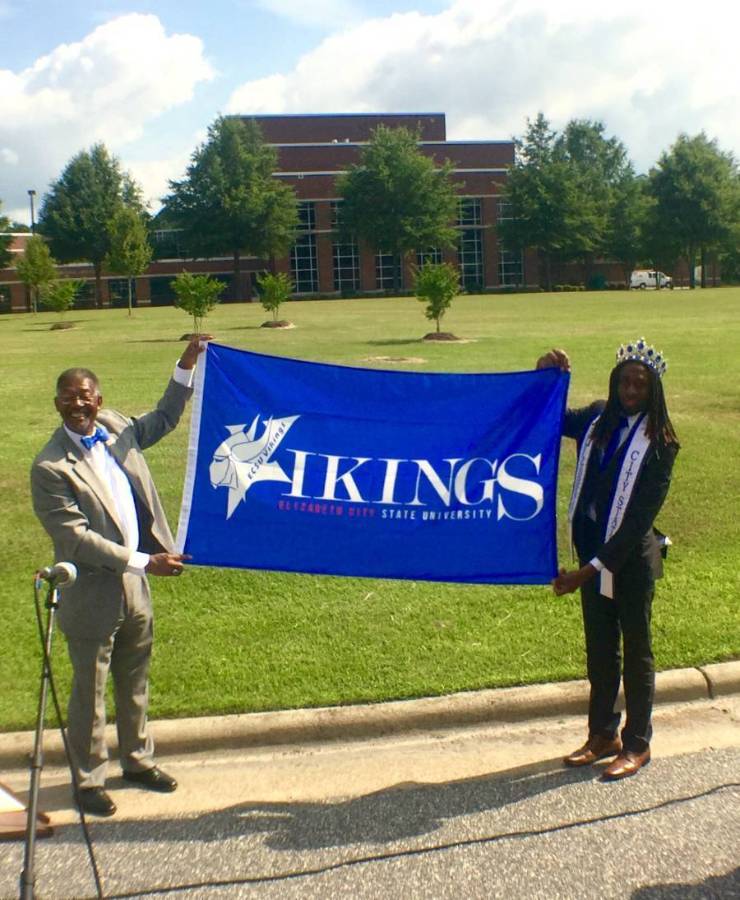 A new flag flies over Elizabeth City State University.
On Tuesday, July 19, 2016, ECSU Chancellor Thomas Conway spoke to a crowd of students, faculty, staff and surrounding community members as he dedicated the raising of a new university flag. The flag will fly adjacent to the university's new main entrance, scheduled to open within the next several weeks.
Chancellor Conway said when he took over as head of ECSU last January, he was greeted by staff and faculty members who have made it their goal to find ways to bring ECSU out into the surrounding communities, and bring those communities in, to be a part of the ECSU family. The new flag, he says, is a symbol of that community cooperation.
"The goal here is to fly the flag with pride, and ask the community to fly it, too," said Chancellor Conway in an address during the ceremony. "We want people to know that you're connected to ECSU, and we're connected to you."
The Student Government Association president, Ajanae Willis, speaking at the ceremony, observed that the flag represents not only pride in ECSU, but also the history of the university. ECSU, she said, has been here through good and difficult times, and will continue to thrive well into the future.
The flag design, said Chancellor Conway, is the result of a collaboration of graphic design students and professional graphic artists. Students were given an opportunity to submit design ideas. Those ideas were then taken, and the new flag was created in cooperation with graphic artists.
Willis said the flag represents the cooperation, "from a lot of great students."
The new main entrance was also a topic at Tuesday's ceremony. Chancellor Conway said the current main entrance to ECSU has had a history of traffic accidents. The new main entrance, located at a traffic light on Weeksville Road, will allow easier and safer access to the campus. Safety, he said, is a major concern for university campuses today.
The entrance will be manned by a security guard evenings and weekends. The entrance will allow campus security to control access and check people in and out as they do business after hours.
"It is important that campuses pay attention to campus safety," said Chancellor Conway.
---