ECSU Competes at National Honors Programs Conference
Posted On November 17, 2017
---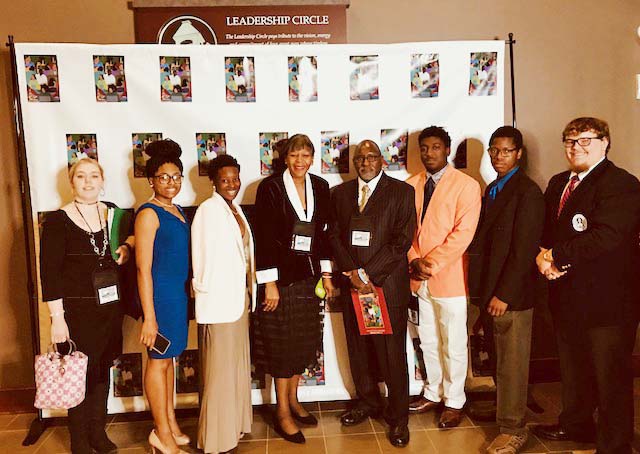 Elizabeth City State Univesity Honors Program students and professors, left to right, Brittany Peden, Mattelyn Bond, Nyla Harris, Dr. Velma Blackmon, Dr. Kenneth E. Jones, Semaj Dubose, Thomas Johnson III, and Zachary Singletary, attended the National Association of African American Honors Programs in Atlanta.
Members of the Elizabeth City State University Honors Program traveled to Atlanta, Georgia for the 26th annual conference of the National Association of African American Honors Programs.
The NAAAHP promotes honors education, scholarship, leadership and success for high academically performing students. Thirty-five honors programs at HBCUs around the country were represented in Atlanta. This year's conference was held at the downtown Atlanta Hilton Hotel with several activities and events on the Morehouse College campus.
The theme of the conference, under the direction of Dr. Leah Creque of Morehouse College, was "Honors Mindset: Legacy of Social Justice." Conference attendees were able to learn about and have direct exposure to key artifacts of the civil rights movement, particularly those affiliated with Dr. Martin Luther King, Jr., such as the "King Collection" at Morehouse.
ECSU competed in both quiz bowl and debate. Nyla Harris, Brittany Peden, and Mattelyn Bond, represented ECSU in the debate competitions. Thomas Johnson III, Semaj Dubose, and Zachary Singletary competed in the Quiz Bowl tournament.
The debate team competed as part of the Morehouse College debate tournament being held concurrently with the NAAAHP conference. Along with HBCU institutions, teams from several well-known PWIs from around the country, such as George Washington University and St. John's, also competed. ECSU's debate team members all performed well. Nyla Harris was only a step away from making the semi-final round.
The ECSU quiz bowl team was one of 10 teams competing in the tournament. The team outlasted Lincoln University of Missouri, Kentucky State University, and Virginia State University, which landed ECSU in the semi-final round. Spelman College beat Tuskegee University to win the tournament.
As much as the annual conference was about competitions and learning, it was also about building relationships and finding inspiration from others who have similar backgrounds and experiences. The hope is that our students will live the "Honors Mindset" daily and instill it in others at ECSU.
ECSU Honors students were led by Director of the Honors Program Dr. Kenneth E. Jones and Honors Program associate Dr. Velma Blackmon.
---