ECSU Community Offers Chancellor Search Input at Staff and Faculty Forums
Posted On August 22, 2018
---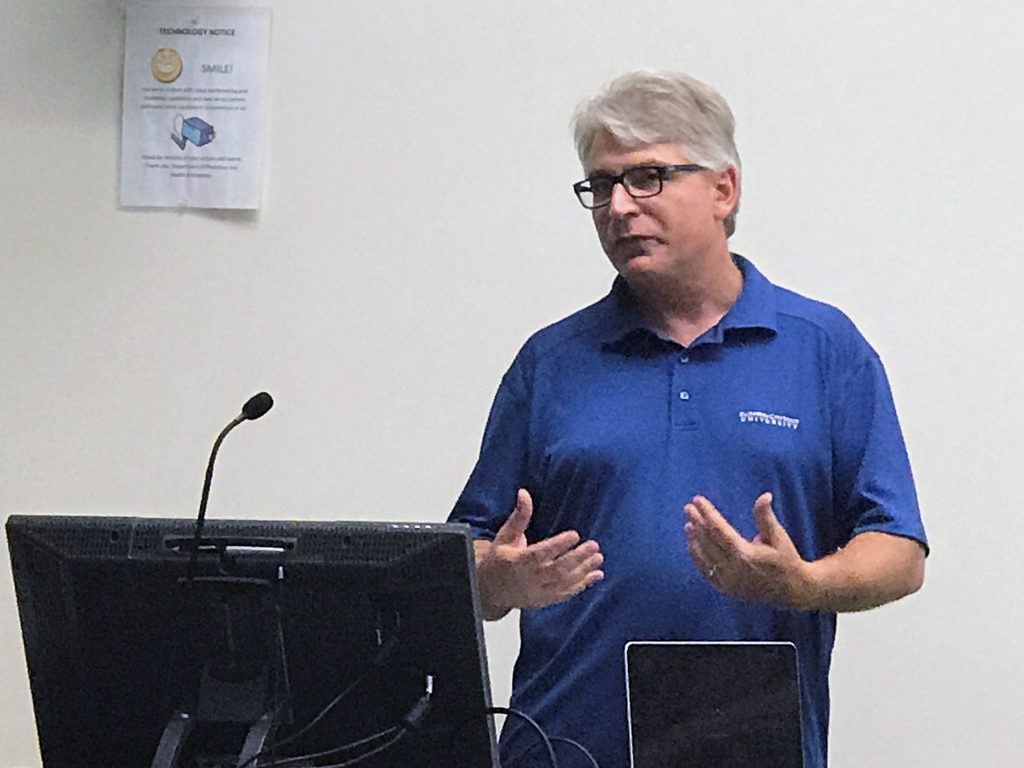 Dr. Scott Bradshaw, ECSU faculty senate chair, moderates the chancellor search committee faculty forum Tuesday, Aug. 21.
Elizabeth City State University Board of Trustee member, Harold Barnes, is serving as the chair of the university's chancellor search committee and he wants all stakeholders to know that the search for the next chief officer an inclusive process. That's the message he delivered during the first search process faculty forum Tuesday, Aug. 21.
"Your input is very valuable," Barnes said. "This input will be used."
The faculty forum is one of a number of community forums designed to help the search committee understand what ECSU and surrounding community members are looking for when searching for the institution's next chief officer. A staff forum was held earlier in the day.
Dr. Scott Bradshaw, the faculty senate chair, moderated the forum.
Bradshaw invited a handful of faculty members, and some ECSU staff members, to step to the podium to express their ideas about the next chancellor. Bradshaw said the process is forward thinking and the desire is to hear what characteristics make up the next chancellor.
Dr. Casey DiGiacinto said she has been a faculty member at ECSU for eight years. She wants to see the new chancellor as someone who can "improve our operations."
Biology professor, Dr. Margaret Young, said it is her hope that the search committee members find a candidate who understands that ECSU is a part of the University of North Carolina system, "So they don't come in and do their own thing." Young also said she wants the search process to be, "as transparent as possible," something Barnes later said is absolutely a priority.
Barnes pointed out that, as a part of the state university system, ECSU's chancellor search committee is bound by guidelines. Those guidelines were established during the committee's first meeting, held on Aug. 2.
During that meeting, committee members were given an overview of the process by UNC System Senior Vice President for Leadership and Talent, Lynn Duffy. Duffy explained the process, discussed open and closed meeting laws, and outlined a timeline for the search process.
Dr. Margery Coulson-Clark said she served on the last chancellor's search committee, and understands the process. She said it is her desire to see someone who is not only committed to ECSU, but also to the surrounding region.
She would also like someone who is capable of "moving this university to another level," and have integrity.
"And must know something about performance," she said.
Other staff and faculty members echoed similar characteristics and desires for the next chancellor. ECSU faculty and staff will have another opportunity to speak at two more forums.
The next ECSU staff forum is planned for Aug. 28, 10 a.m. in the G.R. Little Theater. The faculty forum will also be held on Aug. 28 at 3:30 p.m. in the Pharmacy Complex, room 102.
A student forum will be held in the Ridley Student Center Aug. 30 and Sept. 6, both at 3:30 p.m.
Two forums are planned for the greater Elizabeth City community. One will be held Aug. 29 in the Hugh Cale training room and another in the Arts of the Albemarle Twiford Room, both at 7 p.m.
A forum will also be held in Williamston on Sept. 5 at the Telecenter, 415 East Boulevard at 6 p.m.
Three alumni forums will be as teleconferences Aug. 23, Aug. 30, and Sept. 6.
---