ECSU Community Engagement Initiative to be Showcased at Statewide Fall Emerging Issues Forum
Posted On August 23, 2018
---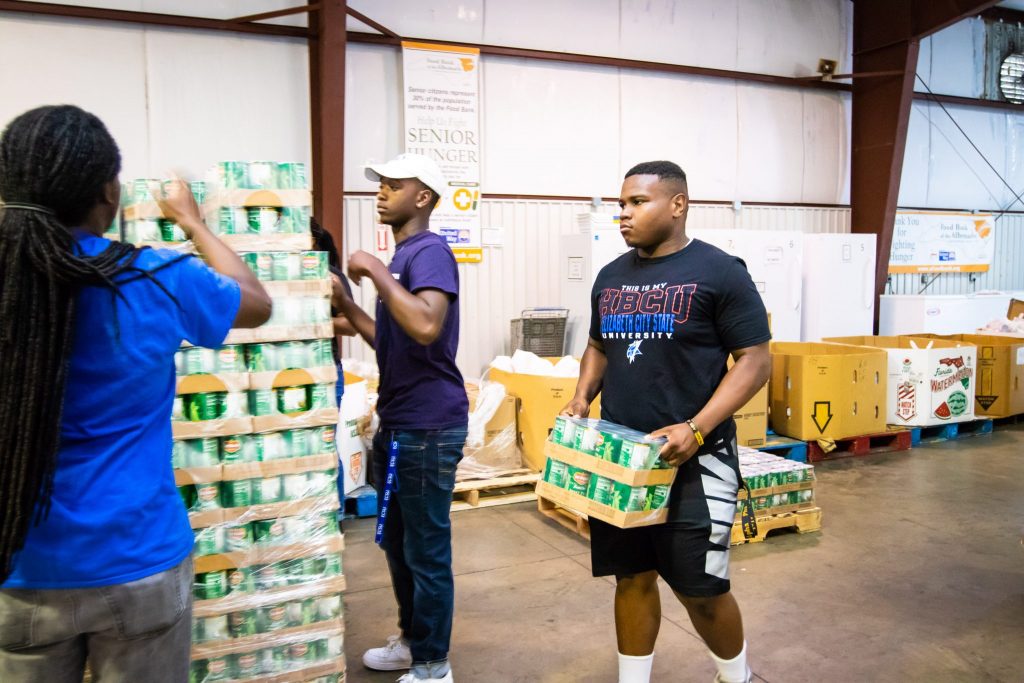 ECSU students volunteer at Food Bank of the Albemarle in Elizabeth City as part of New Viking Days. Student and university community engagement is a significant part of campus life and a recent statewide forum has recognized ECSU for its community initiative, "One Team. One Goal. One Community." (Photo By Michael Harrison)
The Institute for Emerging Issues (IEI) at North Carolina State University has selected Elizabeth City State University's "One Team. One Goal. One Community." initiative as one of its five community initiatives to be showcased at the Emerging Issues Forum "ReCONNECT to Community" in Asheville on Sept. 17. The intent of the program is to design, develop and implement a civic action plan that provides greater inclusion and diversity of thought to the area.
ECSU joins four other community initiatives selected from over 30 applicants from across the state. The university, along with the other communities, is actively working on initiatives to increase civic engagement to address critical community challenges. Each community team will share their initiative with a statewide audience at the forum and receive additional training and technical support from IEI to amplify their work.
"Elizabeth City State University applied to be one of the featured communities because as a major institution and historically black university, it is in ECSU's DNA to bring people together, provide diverse thoughts and ideas, and define inclusion," said Russ Haddad, ECSU's director of community and economic engagement.
ECSU's ongoing efforts to engage in community action have most recently included volunteering at Food Bank of the Albemarle. During New Viking Days, new freshmen were engaged in packing food for Food Bank recipients, as well as packing back-to-school backpacks for J.C. Sawyer Elementary School students.
Haddad says these are just two examples of the many activities ECSU students are involved with, bringing the Viking Spirit out to the surrounding community.
The four other community initiatives selected are Rural Opportunity Institute (Edgecombe County), Asheville City Schools Foundation (Asheville), Explore Elkin (Elkin), and Community Innovation Lab at the Institute for the Arts (Winston-Salem).
IEI's Emerging Issues Forum "ReCONNECT to Community: Solving Problems Together for a More Prosperous Future," is Sept. 17, at the Asheville Crowne Plaza Resort in Asheville, North Carolina. Other speakers at the forum include New York Times journalist David Brooks, North Carolina Governor Roy Cooper, UNC Asheville Executive Director of Community Engagement Dr. Darin Waters, and North Carolina State University Provost Dr. Warwick Arden.
---