ECSU, COA Begin a New Era of Higher Education Cooperation
---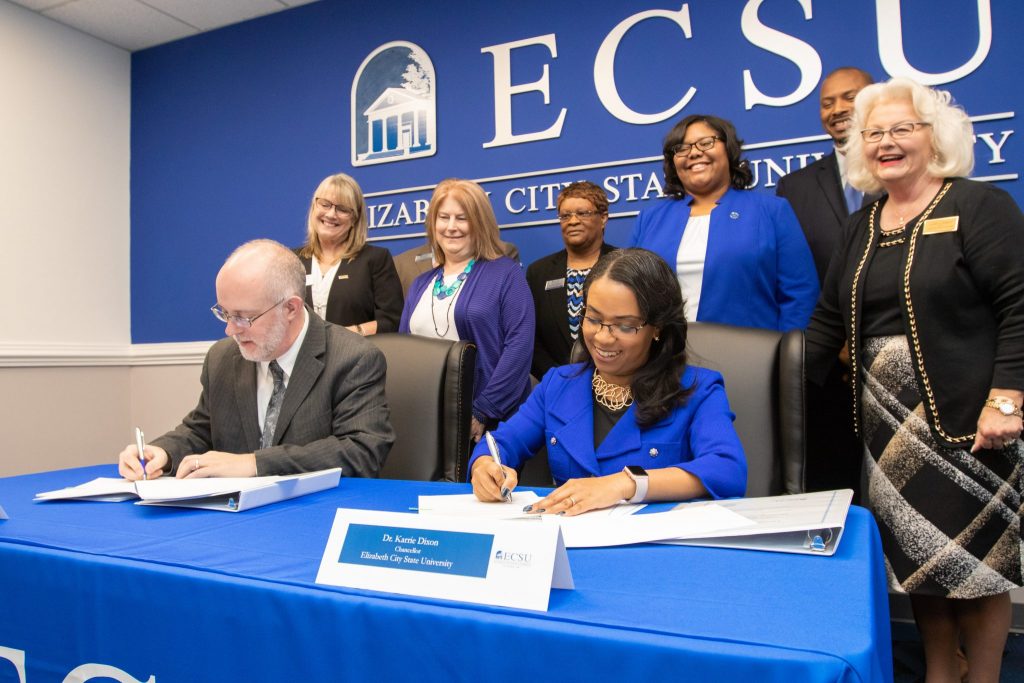 College of the Albemarle President Dr. Robert Wynegar, seated left, joined ECSU Chancellor Dr. Karrie Dixon in signing two agreements. The purpose of the agreements is to build a relationship between the two institutions, and create a clear pathway for COA students to transfer to ECSU.

Elizabeth City State University and College of the Albemarle are officially partners in education after the signing of two agreements between the institutions Thursday, March 7.
ECSU and COA officials met to sign a co-admission agreement, and a kinesiology program agreement. Both agreements create a pathway for community college students to transfer to ECSU from COA with ease.
"This is just a first step," said ECSU Chancellor Karrie Dixon. "Today we are demonstrating one of many ways ECSU and COA will collaborate."
The co-admission agreement, according to Dr. Dixon, will allow COA students to form a relationship with ECSU while attending the community college. It will, she said, give these students a chance to become a part of the ECSU community, making their transfer to the four-year institution smooth and seamless.
"While they are attending COA, they will benefit from ECSU activities, enhancing their social community," said Dr. Dixon.
COA's president, Dr. Robert Wynegar, said upon taking his position at the community college, these formal agreements with ECSU were among the first order of business that had been presented to him. Working with ECSU has been a top priority for COA.
"The co-admission agreement formalizes the relationship that already exists," he said.
In addition to the co-admission agreement, the two institutions signed a bilateral agreement to educate health and fitness majors. Kinesiology is the study of human movement, incorporating three areas of concentration into the major: fitness and wellness, physical education and health, and exercise science.
Students from COA's associate's degree in science program will move from the community college campus to ECSU's kinesiology program, the fourth largest degree program at the university, according to Dr. Dixon.
Dr. Jennifer Brown, ECSU's assistant professor of kinesiology, said in a presentation to college and university officials, that the university program is, "designed around the highest standards in the industry."
"We are looking at preparing students for employment," said Dr. Brown, adding that this program offers them direction to do what they love. "We want them to be experts and that means more opportunities."
Christian Jones is a kinesiology major who transferred to ECSU from COA. In a presentation, he said the ability to move from COA to ECSU has made a "clear pathway" for him, and it has made a difference to his education.
"My COA education has transferred very well to ECSU," said Jones, a senior. "I came here for the wealth of opportunity."
---