ECSU Chancellor Search Moving Forward on Schedule
Posted On November 15, 2018
---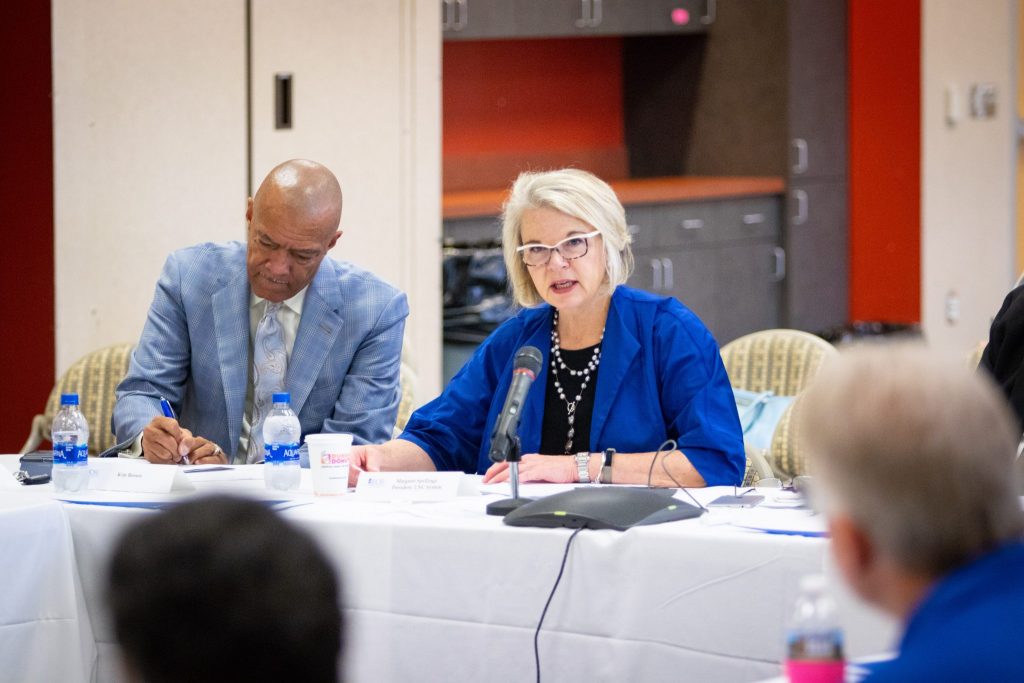 UNC System president Margaret Spellings officially charges of the ECSU Chancellor's Search Committee with the task of finding the university's next chief officer last August. Despite the recent announced resignation of Spellings, committee chair Harold Barnes says the search is moving forward and on schedule.

A search for Elizabeth City State University's next chief officer is moving forward, and on schedule, according to the Chancellor's Search Committee chair, Harold Barnes.
During the committee's latest meeting, held Thursday, Nov. 15, Barnes acknowledged the recent announcement of University of North Carolina System president Margaret Spellings. He told committee members her departure and the appointment of an interim system president will not change the course of ECSU's plans to name a new chancellor.
"We are truly grateful for her leadership," said Barnes.
The committee then went into a closed session to discuss the applicants and begin narrowing down the field of candidates. According to Barnes, the field of candidates is being narrowed down to seven or eight people.
Once the field is narrowed, the committee will begin interviewing candidates, and then recommendations will be made to ECSU Board of Trustees during its Dec. 5 meeting; trustees will then make a recommendation to the system president, who will ultimately make a final recommendation to the UNC System Board of Governors.
The ECSU Chancellor's search will conclude with the naming of the university's next chief officer at the beginning of 2019.
The search process began last August with a meeting led by Barnes as chair, and Spellings, who formally charged committee. The national search firm, Isaacson, Miller, has been working closely with the committee to bring together a list of candidates.
A Chancellor's search webpage was posted on ECSU's main site for updates and information pertaining to the process. Over the course of months, forums with staff and faculty, students, and community members were held for the purpose of gaining more information about what people want from the next chief officer.
Over the course of those forums, a number of questions were posed to forum participants:
What characteristics, skills, and leadership style would you like to see in our next Chancellor? What background and experiences do you see as essential including educational credentials, administrative experience?
What are the top priorities of the position and what should the next Chancellor emphasize during their first two years?
What are the current strengths or "points of pride" of Elizabeth City State University, and what do you see as challenges or opportunities for improvement?
What other considerations should the committee have moving forward with our search for a new Chancellor?
---