ECSU Chancellor Karrie G. Dixon Delivers Fall 2021 State of University Address: The future is Bright
Posted On August 11, 2021
---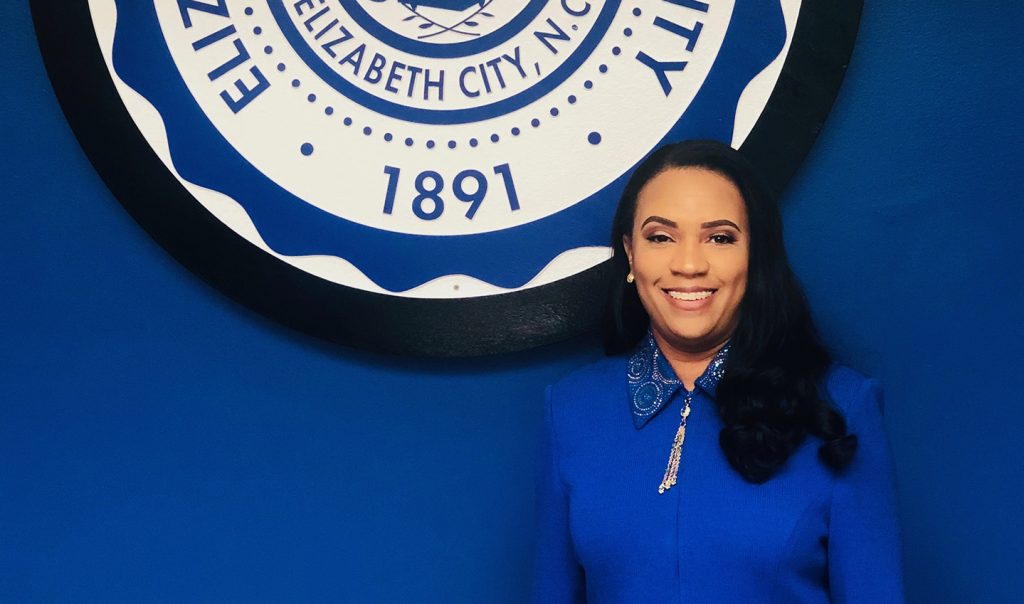 As the Elizabeth City State University community prepares to return to campus for the fall 2021 semester, the message from Chancellor Karrie G. Dixon during her State of the University address is clear. There is a "bright future" ahead.
"We are forging our future and our future continues to be bright," she said during a virtual State of the University address at the opening of the Faculty/Staff Institute Wednesday, Aug. 11.
As the campus prepares to launch into the new semester, Chancellor Dixon said the recent surge of COVID-19 is a top priority and protocol is in place to keep faculty, staff and students safe. She said face coverings are required inside all buildings and while vaccines are not mandated, proof of vaccination will be required and for those not vaccinated, regular testing will be required.
"As we return, health and safety remain our top priority," she said.
Last year, said Chancellor Dixon, was a success as ECSU navigated the challenges of the pandemic. The university had the lowest cases of virus spread amongst all of the UNC System campuses thanks to safety protocols and the cooperation of Vikings across the campus.
Chancellor Dixon says currently, ECSU is on the radar of the North Carolina General Assembly as they hammer out the state's budget. And the university is poised to receive approximately $100 million in funding if this budget is passed in its current form.
"We've never seen funding like this for our university," she said.
Chancellor Dixon said there are four key projects that will be affected by the proposed budget:
New residential halls. The campus population is growing, and older residential halls are being razed to make way for newer facilities;
A new dining hall. As Bedell Hall, the current home of dining operations, has seen challenges in recent years, it's time for a new dining facility;
Aviation school. The aviation program is ECSU's signature program. Chancellor Dixon stressed that while all of the university's programs are highly valued, aviation is a "niche" program that makes ECSU stand apart from other North Carolina institutions;
The skybridge. Students living in Viking Village must cross Weeksville Road to access the main campus. The crossing of that very busy road has been challenging and there have been serious incidents involving pedestrians. A skybridge would give students safe, direct access to campus, unimpeded by the high volume and fast-moving traffic on Weeksville Road.
Other budget items being considered by the General Assembly are faculty and staff raises. 
Chancellor Dixon said these changes at ECSU are taking place because people are paying attention to the university and its progress. She encouraged faculty and staff to "protect our brand."
It is critical, she said, that ECSU continues to maintain its progress and the campus community works to build the ECSU reputation.
"We have to let them know that we are strong, thriving and are on the same page as a family," said Chancellor Dixon.
The recent $15 million gift from billionaire philanthropist McKenzie Scott, and a recently announced partnership with United Airlines, are examples, she said, of how people are paying attention to the growth and success of ECSU. Ms. Scott and United Airlines sought out the university because of the work Vikings are doing and the progress people are seeing here in Northeastern North Carolina.
"They heard about us and our excellence," said Chancellor Dixon. "People are watching and listening."
To that end, Chancellor Dixon also emphasized the importance of customer service. Internal and external customer service, she said, are "extremely important."
Deputy Chief of Staff Gwen Sanders is heading a committee dedicated to working with the campus on increasing the quality of customer service.
"Make sure that the first impression matters," said Chancellor Dixon. "And always have a positive attitude."
Chancellor Dixon emphasized Accountability, Commitment and Excellence, or A.C.E.
"A rising tide lifts all boats but also remember, as you have heard me say every year, make sure everyone in your boat is rowing, and not drilling holes," she said.
Students begin to move onto campus Thursday, Aug. 12, and classes start Tuesday, Aug. 17.
---