ECSU Chancellor Dixon Speaks at 31st ECPPS Education Foundation Meeting
Posted On October 4, 2019
---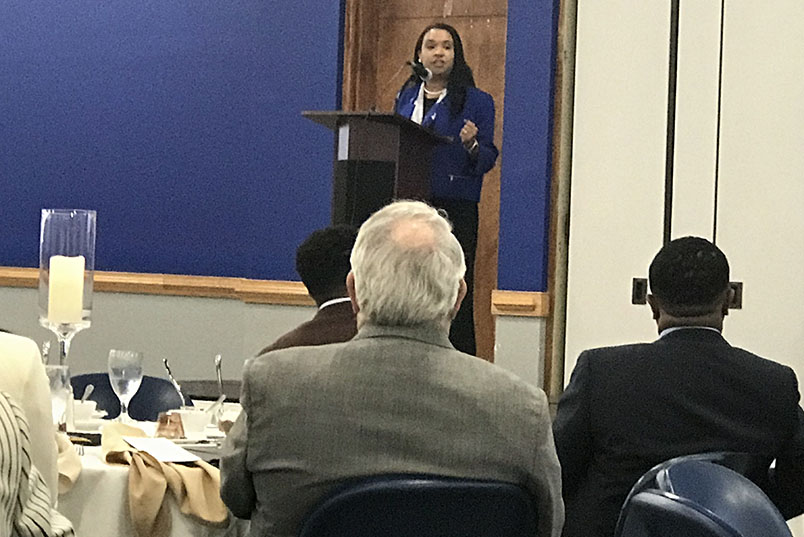 Elizabeth City State University is poised to be a leader in education training, locally, regionally, and statewide. That was the message ECSU Chancellor Karrie Dixon delivered Thursday, Oct. 3, during the 31st annual Elizabeth City-Pasquotank Public Schools Education Foundation banquet.
"We can be a model for training teachers," said Chancellor Dixon, speaking to a crowded room at the K.E. White Center. "We can do what no one else has imagined they could do, right here in Elizabeth City."
Chancellor Dixon was one of several keynote speakers at the Foundation's annual banquet and fundraiser. Her speech followed remarks from ECPPS's new superintendent, Dr. Catherine Edmonds.
"We are connecting with them (ECSU). We are partnering with them," said Dr. Edmonds in her speech.
Chancellor Dixon and Dr. Edmonds both spoke of a partnership that has trained teachers, and will continue to train teachers. Chancellor Dixon opened her remarks with a retelling of the history of ECSU, highlighting the institution's legacy of training teachers since its founding in 1891.
"Many of the teachers here tonight are graduates of Elizabeth City State University," said Chancellor Dixon.
Chancellor Dixon then outlined the many education training programs available at ECSU, taking ECSU elementary education students through student teaching, the N.C. Residency Program, to graduate degrees and national certification.
And she reminded the gathering of educators and community members that thanks to N.C. Promise, ECSU is a very affordable opportunity for North Carolina's future educators.
"We have to prepare students for tomorrow," said Chancellor Dixon. "We can make this happen."
Chancellor Dixon also wowed the room with plans for ECSU's new library complex.
"We have in the state budge $32 million for a new library," she said, showing the crowd a conceptual drawing of the facility. "It will be a community library."
Also speaking at Thursday's event was Mr. John Maurice, president of Mid-Atlantic Christian University, and Dr. Travis Twiford, interim president for College of the Albemarle.
---