ECSU celebrates the installation of Chancellor Stacey Franklin Jones
Posted On September 23, 2015
---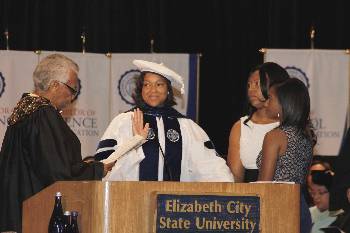 Elizabeth City State University held a full slate of events and festivities to celebrate the installation of Chancellor Stacey Franklin Jones, the university's fifth chancellor and tenth chief executive officer.
ECSU Trustees began the week on September 8 by presenting a proclamation that declared their commitment to helping the Chancellor advance the university. The proclamation followed the quarterly meeting of the trustee board where seven members took the oath of office.
Students gathered for an event, "Own Your Success," on September 9 in the Ridley Complex to display posters and informative displays to review the services their clubs and organizations provide. The "Marching Sound of Class" capped the day with a performance on the promenade.
Faculty and staff later gathered in Johnson Hall to make brief scholarly presentations on topics that reflect their areas of research: Later in the afternoon, during "Scholarcade," faculty and staff read poetry, completed musical, dance and scholarly rap performances. The rap performed by math and computer science faculty, the performance showed how students can learn equations and computer programs then demonstrate their knowledge in various formats. That day ended with an Alumni Tribute: Viking Pride Exemplified," where alumni portrayed previous presidents and chancellors and provided words of wisdom from their years of service.
On Friday, Chancellor Stacey Franklin Jones took the oath of office. Later in her speech, Jones told the audience she was filled with gratitude and pride to be installed as chancellor. She thanked UNC President Tom Ross, Chairman John Fennebresque (UNC Board of Governors), guests who came from UNC and area universities, the UNC Board of Governors, faculty, staff, students, family and the greater ECSU community for sharing the day with her. She assured the audience the institution will provide students who are well prepared to serve their communities.
"ECSU graduates will also have been exposed to the underlying technologies, knowledge of the related policies and best practices and be well versed in achievement through teamwork and collaboration. This is what today's industry commands, and ECSU will fill this void for our region, our state and our nation." Jones said.
While she greeted faculty, staff and alumni, Jones relayed heart-felt words for the students she declared we are all here to serve.
"The obvious is that you are smart and creative. ….. I know this – because you share with me – that you have big dreams, huge ambition and have targeted a better way of life."
"ECSU cadets, I thank you for your leadership – in physical and mental discipline on our campus honor students for modeling what we mean when we say let us make a scholar out of you to our student government for your ideas and responsible representation that shapes the new ECSU student experience you are all well on the way to owning your success – which is our University theme for this year."
"Our job is to help you visualize your definition of success but then as we will highlight all year long – you have to own it. Your success – influenced by your education, career choice, contribution to your family, community, nation and the greater good – will ultimately be shaped by the decisions that you make – now and forever more. And the best decisions are those that yield more – not fewer options. ECSU Vikings, I thank you for your presence here today and that spectacular – and that is an understatement – tribute the other evening."
A photo gallery depicting the past week's events is available for your review:
http://www.ecsu.edu/about/governance/chancellor/photo-gallery/index.html
---