ECSU Celebrates Re-Opening of Williams Hall Gymnasium
Posted On October 11, 2019
---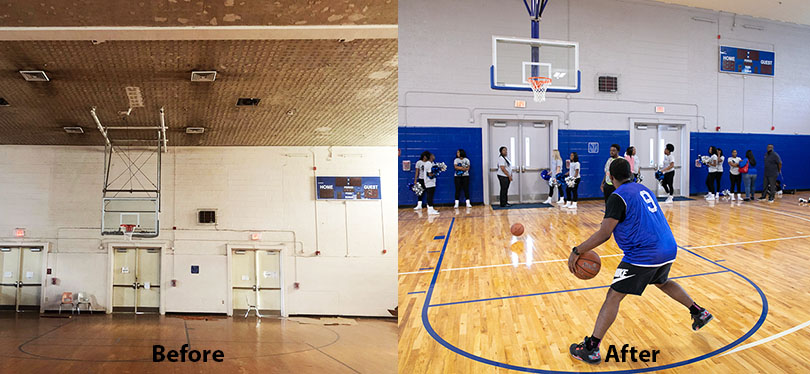 In 1949 the two-story building Williams Hall opened to students at Elizabeth City State University. In 1951 a wing for fine arts instruction and a gymnasium were added to the building. And now, in 2019, that gymnasium is renovated to its former glory, and open for business.
"I did this because I listened to the students," said |ECSU Chancellor Karrie Dixon during the gymnasium's rededication Thursday, Oct. 10. "They said they wanted a place that is committed to students. And you know that we want you to love where you learn."
At the rededication ceremony, vice chancellors, trustees, faculty, staff, and students gathered to celebrate the renewed space. Inside the gymnasium, students prepared for the first intermural basketball tournament since the gymnasium's renovation.
ECSU Student Government Association president, Emmanuel Butts, was one of the many students on hand to celebrate the space.
"I think it's amazing," said Mr. Butts. "I think it reflects the culture and direction the university is moving."
During the dedication ceremony, the vice chancellor for student affairs, Gary Brown, said the opening of the gymnasium is the culmination of hard work executed over last summer.
"The Chancellor's vision brought this to fruition," he said.
The Williams Hall renovation is more than a gymnasium, however. It is also the reinvigoration of the entire building dedicated to academics.
"Williams Hall renovation will better serve and support pedagogical practices for physical education electives and kinesiology programs," said ECSU provost, Dr. Farrah J. Ward.
Part of the celebration of the reopening of the gymnasium was the fact that students are once again playing ball on the original, refinished court. ECSU trustee, Phyllis Bosomworth, marveled at the renovated court floor.
"It's just amazing," she said.
According to ECSU's chief operating officer, Alyn Goodson, the floor was stripped and refinished; the walls were painted; six new electric folding glass goals were installed; updated LED lighting was installed; wall graphics and accents were added; and the ceiling was resurfaced.
The Laboratory Nursery/Kindergarten was formerly housed at Williams Hall. It also housed the ECSU Music Dept.
With 2003 – 2004 rehabilitation and modernization, the 36,000-square foot facility has become the new home of the School of Business and Economics and continues to house the operations of WRVS-FM radio. With all new finishes and furnishings, a new elevator, and facilities for the disabled, it also has some revisions of its exterior design, modernized electrical, mechanical, and plumbing systems.
The building is named for Dr. Sidney David Williams (1892 – 1974), fourth ECSU president and second president emeritus.
---