ECSU celebrates Dr. Martin Luther King with annual march
Posted On January 8, 2016
---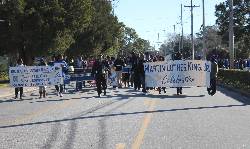 By Kesha Williams
Join the students of Elizabeth City State University, College of the Albemarle, and Mid-Atlantic Christian University at 9 a.m. on January 18 for a commemorative march through downtown Elizabeth City. The march begins in the parking lot of the G. R. Little Library. The march is not limited to students, staff or faculty of the university. The public is encouraged to participate in the march or to attend an inspirational program in the auditorium of Sheep Harney Elementary School, 200 West Elizabeth Street, following the march.
The pedestrians will take the following route:
Parkview Drive up Southern Avenue to Water Street left on Main Street right on Road Street end at Sheep Harney Elementary School.
The nation first observed the civil rights leader's birthday as a national holiday in January 1983. While his birthday was January 15, 1929, the nation observes it on the third Monday of the month. The observance reminds the public of King's campaign for nonviolence and civil rights. Many around the nation engage in assorted community service projects in recognition of another of another of King's platforms– public service.
Learn more: http://www.ecsu.edu/about/experience-ecsu/annual-events/mlk-day/index.html
---