ECSU celebrates American and International Education Month
Posted On October 31, 2011
---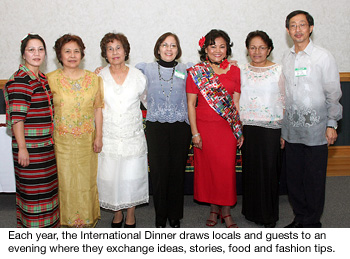 Kesha Williams
October 31, 2011
During the month of November, ECSU will observe the annual American and International Education Month. A series of free and public events follow:
November 2 – American Education Assembly
10 a.m. at the Mickey L. Burnim Fine Arts Center.
The guest speaker is the National Teacher of the Year: Michelle M. Shearer, the 2011 Maryland Teacher of the Year. Shearer teaches chemistry to students in grades 10 through 12 at Urbana High School in Ijamsville, Maryland. She has taught for 14 years.
November 4 – The UNC Council of Education Deans and the University
Council on International Programs presents the Second Annual
Internationalizing Teacher Education Forum 8 a.m. – 3:30 p.m.
UNC Charlotte, Charlotte N.C.
November 9 – Aquatic Kickboxing
5:30 p.m. to 6:30 p.m. in the R. L. Vaughan Center
November 10 – Student Leadership Forum
3:30 p.m. to 5 p.m. in the Ridley Student Complex, #216 Multipurpose Room
November 11 – International Dinner
6 p.m. to 9 p.m. in the K. E. White Graduate and Continuing Education Center. Each attending family is strongly encouraged to bring an entree.&ampnbsp Entrees prepared by local, current, state licensed restaurants or grocery store delicatessens are welcome. A card that outlines the ingredients should arrive with meal. Food should be kept to proper temperatures and promptly delivered to the site by 5:45 p.m. For more information on dinner delivery or cards to list ingredients, call Ms. Ciano before noon on November 11, at 335-3591.
November 14 – Health Fair
1 p.m. in the Melvyn N. and Vonda Reed Riley Wellness Center
November 14 – International Tea
4 p.m. in the Ridley Student Complex (stage area)
November 15 – Step Aerobics
6 p.m. – 7 p.m. in the R. L. Vaughan Center
November 16 – Faculty Forum
3:30 p.m.&ampnbsp to 4:30 p.m. in room #104 of the Pharmacy Complex
November 16 – Sixth Bi-Annual Health and Physical Education Symposium
Theme &quotObesity: Yesterday, Today, and…Tomorrow?&quot
12 p.m.: Reception
1:30 p.m. – 3 p.m.: Plenary Sessions- Poster Session
4:30 p.m.: Awards
For more information, call the Dr. Bonita Ewers, 252-335-3630 or Dr. Saundra Copeland, 252-335-3337.
---