ECSU Celebrates 55th Annual International Dinner and Fair
Posted On November 25, 2019
---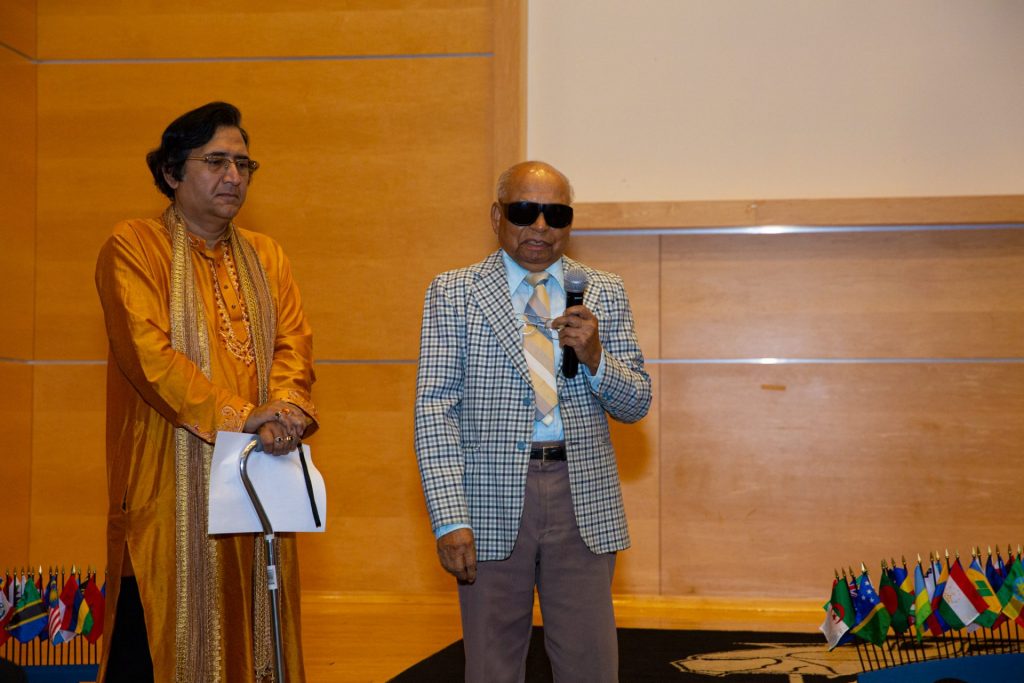 Retired ECSU professor, Dr. Sekender Khan, right, talks about the origins of the university's International Education Week dinner and fair during the 55th dinner Friday, Nov. 22. Standing with Dr. Khan is ECSU professor Dr. Hirendra Banerjee who has been attending the dinners since 2000.
The colorful clothes, the aroma of spices, and a tradition that spans 55 years of Elizabeth City State University all came together Friday, Nov. 22 for the annual International Week Dinner and Fair.
In 1964, then ECSU chancellor, Dr. Walter Ridley, joined 11 other college presidents on a tour of East Pakistan. That's where Dr. Ridley met the now retired professor, Dr. Sekender Khan.
"He (Dr. Ridley) was very fond of the people of East Pakistan," recalled Dr. Khan, who spoke at the 2019 International Week Dinner and Fair. "He wanted someone on the faculty from there."
That someone would be Dr. Khan, and in August 1964 he and his wife would relocate to Elizabeth City to become a part of the ECSU family. It was also that year that he would work with the faculty and administration to create a celebration of international diversity at ECSU, and the university's first International Dinner.
Elizabeth City's mayor, Bettie Parker, is a graduate of ECSU and a retired educator. She said she recalls Dr. Khan in those early days. She recalled his attention to students and events throughout the campus, and the importance of the diversity of faculty in those days.
"We live in a big world," Mayor Parker told a crowd of students, faculty, staff, and community members. "There is so much to see beyond the university and of course beyond the four corners of Elizabeth City."
Mayor Parker encouraged dialogue between all people from all walks of life.
"It is better to collaborate and have conversations and form relationships with other people in real time. This event gives you the opportunity to link together the hearts and minds, one nation to another."
A taste of the world beyond ECSU was on display throughout the Ridley Student Center during the event. Tables celebrating a variety of countries and cultures included Korea, Ethiopia, Nigeria, Central and South American countries, and even Greece through the eyes of a native of Turkey.
Nurhak Tuncer, ECSU's music librarian, is a native of Izmir, Turkey. She hosted a table presenting her finds from the Greek island of Chios.
Beyond Ms. Tuncer's display, there was an array of food representing the world. Much of it was prepared by ECSU faculty dressed in the clothing of their native lands.
Throughout the evening men could be seen wearing the African dashiki shirt, while women from India and Bangladesh could be seen with the traditional sari.
Dr. Hirendra Banerjee, dressed in the robes of his native India, said he has been attending the annual dinner since 2000, when he first arrived on the ECSU campus.
"It was awesome," Dr. Banerjee said of his first International dinner. "The food was so good but most of all it was the love that came with that food."
Other speakers that evening included ECSU Provost Dr. Farrah Ward, faculty senate vice-chair Dr. Debjani Kanjilal, and Mr. and Ms. ECSU. A student dance group performed and the Sound of Class Drum Line drummed up a whole of lot of international Viking Spirit.  
---