ECSU Campus-Wide Major Fusion Event Transitions Freshmen to Academic Majors
---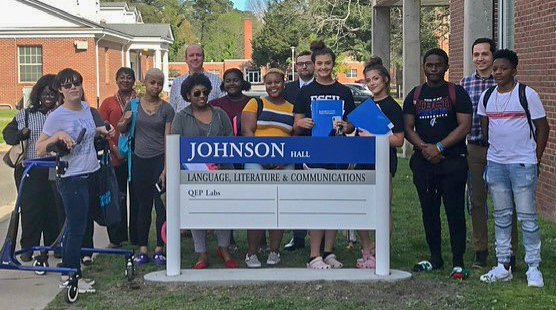 Freshmen entering the Literature, Language and Communications department as sophomores next year participated in the Major Fusion event across campus. For more photos, see the gallery below.
The 2018-19 freshman class will remember Thursday, April 11, as a day of "fusing" with the faculty and staff in their degree programs. The Master Advisor Council and the Department of University Studies, in conjunction with each academic department, planned and organized "Major Fusion" events to welcome and transition the freshman students to their respective departments.
Major Fusion gives freshmen the opportunity to meet and interact with the leadership and faculty in their departments prior to their upcoming sophomore year.  The event marks the transition of the freshman students from their University Studies advisor to their departmental advisor, according to business professor, Dr. Debjani Kanjilal.
"It was also an occasion to get to know a bit more about their major," said Dr. Kanjilal. "This was a follow-up to the pilot Major Fusion event that was held with the Department of Business and Economics on March 28."
The Major Fusion events on April 11 were held at the respective department buildings for the Departments of Education, Psychology and Health, Language, Literature and Communication, Mathematics and Computer Science, Natural Sciences, Pharmacy and Health, Social and Behavioral Sciences, Technology, and Visual and Performing Arts.
Dr. Kanjilal said the events were well attended with a total of 193 freshmen. The highlights of the events included a short presentation from the department chairpersons and the "Purpose of Major Fusion," delivered by either the University Studies or Master Advisor Council designee.
"The students were encouraged to ask questions and were given an opportunity to interact with the department's faculty advisors and senior class students and to familiarize themselves with the departments," said Dr. Kanjilal.
Dr. Kanjilal said the freshman class appeared to be motivated by the interaction with the faculty, "and thoroughly enjoyed the reception at their departments."
"This is evident from the responses of a follow-up survey where they indicated that their questions were answered, everyone was helpful, and that they enjoyed seeing all the students and faculty come together," she said. "One response was 'the department getting together and getting to know each other like it's a family thing.'"
Dr. Kanjilal said the event was successful due in part to the support and assistance received from The Division of Academic Affairs and Department of University Studies. One of the many goals of the Master Advisor Council and University Studies is to continue these events in the semesters to come and work with all departments to welcome the freshman students into their respective degree programs.
---