ECSU Business Students Honored During Department Ceremony
---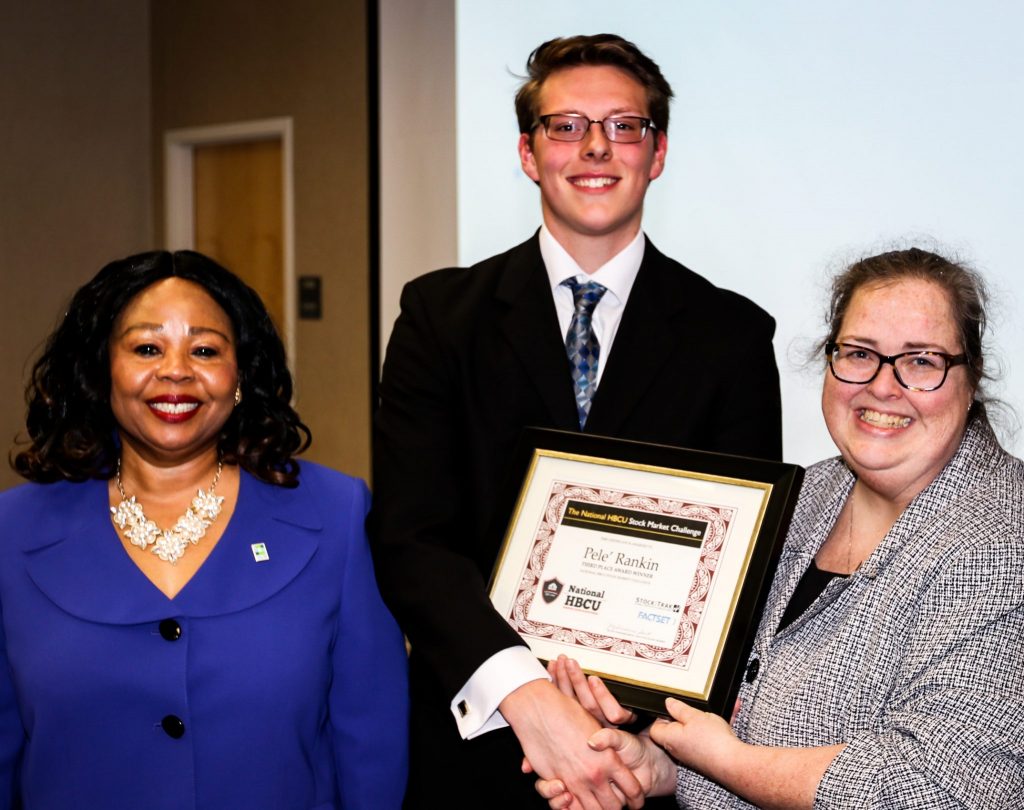 ECSU sophomore Pele Rankin, center, is honored with a certificate for his third place win in the National HBCU Stock Market Challenge. Rankin is joined by Dr. Ngozi Oriaku, left, and Dr. Joy Smith. (See more photos below)
Elizabeth City State University business student Pele Rankin is a National HBCU Stock Market Challenge winner and one of a number of business students honored during a campus ceremony earlier this month.
Rankin, a sophomore, was honored during a Department of Business and Economics award ceremony for third place in the national competition.
According to Dean of Professional Studies and Human Performance, Dr. Joy Smith, who is also a member of the New York Stock Exchange HBCU Deans' Roundtable, Rankin participated in the national challenge for the Stock-Trak Inc., award.
The National HBCU Stock Market Challenge requires that each participant manage a $100,000 virtual investing portfolio. The portfolio consists of stocks, bonds, mutual funds and ETFs using real-time prices.
Challenge participants were also given additional assignments consisting of various financial literacy scenarios. Rankin was recognized during the ECSU ceremony for his award with a certificate given by Dr. Smith and Dr. Ngozi Oriaku, business department chairperson.
Other students recognized at the April 11 ceremony are:
Christopher Tilley, Outstanding Graduating Senior in Accounting;
Christopher Tilley, Penelope Royal, and Ikisha Brothers for Outstanding Seniors in Business Administration;
Asta Gudmundsdottir and Kalayzia Bell for Outstanding Juniors in Accounting;
Brandon Joyner, Maria Knight, Deanna Byrum for Outstanding Juniors in Business Administration;
Marcus Henry and Jaiquiera Braswell for Outstanding Sophomores in Accounting;
Pele Rankin and William Holmes for Outstanding Sophomores in Business Administration.
Also during the ceremony, new members of the Beta Gamma Sigma society were inducted. They are: Ikisha Brothers, Deanna Byrum, Asta Gudmundsdottir, Maria Knight, Shirley Parker, and Penelope Royal.
---