ECSU BCCC Enter into Agreement for Criminal Justice Degree
Posted On November 15, 2016
---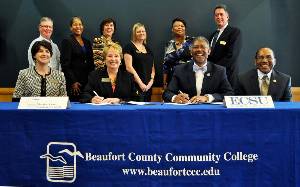 Elizabeth City State University and Beaufort County Community College (BCCC) have entered into an agreement that will allow students in the Washington North Carolina area the opportunity to receive a degree from ECSU while attending BCCC.
Beaufort County students who would like to receive a Bachelor of Arts in Criminal Justice from ECSU can now start their coursework at BCCC. The two institutions entered into an articulation agreement on Thursday Nov. 3.
"As we look for ways of providing greater service to the region opportunities provided through MOU arrangements with community colleges are very important" said ECSU Chancellor Thomas Conway. "This particular MOU focuses on linking the Criminal Justice programs at the two institutions to expand opportunities for bachelor's degrees through ECSU for students completing associate's degrees at BCCC. Our goal is to expand our relationship with BCCC into other curricula areas after demonstrating the effectiveness of this initiative."
Colleges around the state often have slightly different required coursework tied to a major. An articulation agreement acknowledges that the college where the student will finish their coursework in this case Elizabeth City State University will accept all of the classes taken at BCCC. Students in the criminal justice program often go on to a four-year institution to complete a bachelor's degree.
"This gives our students one more option to complete a four-year degree" said BCCC criminal justice instructor Crystal Watts. "As the focus changes from incarceration to surveillance parole and probation students with a better understanding of the law and technology will be able to get further ahead." Probation and parole positions require a four-year degree.
The criminal justice technology curriculum is designed to provide knowledge of criminal justice systems and operations. Students focus on local state and federal law enforcement judicial processes corrections and security services. They also look at the criminal justice system's role within society.
As a constituent institution of the University of North Carolina Elizabeth City State University offers baccalaureate professional and master's degrees for a diverse student body. Its mission is to promote economic social and environmental progress for the people of northeastern North Carolina the state and the nation.
ECSU achieves its commitment to the highest quality education by maintaining a rigorous focus on academic excellence through liberal arts programs and using innovative and flexible technology-based instruction models to enhance its signature areas: integrating technology with education improving human health and wellness and advancing the natural and aviation sciences.
Beaufort County Community College provides accessible and affordable education to the people of Beaufort Hyde Tyrrell and Washington Counties.
The program is pending SACS approval.
---