ECSU Awarded $10,000 for Vikings Care Food Pantry
Posted On January 3, 2019
---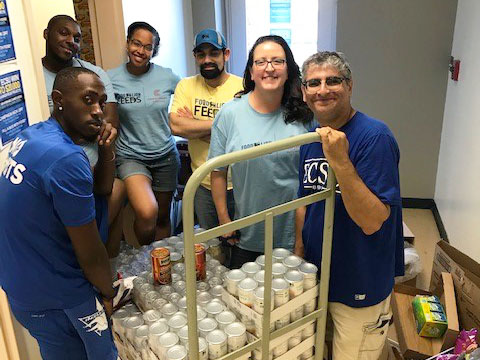 Viking Cares Food Pantry team includes, left to right, Tyrese Bazemore, Demond Holley, Ashante Spruill, Food Lion manager Skylar, Dr. Jennifer Brown and Russ Haddad.

Doing its part to feed the hungry, the Elizabeth City State University Food Lion Feeds Team has won the Souper Bowl Drive award, raising an average of more than four pounds of food per ECSU student. The school team will be awarded $10,000.
Last fall ECSU became one of 18 university campuses across the state to join the Food Lion Feeds "Collegiate Challenge." The challenge was designed to mobilize campuses to address hunger in their communities.
ECSU will receive the $10,000 award to help fight hunger in their communities.
Last fall ECSU opened the Vikings Care Food Pantry as a part of its initiative to fight hunger, and give students in need of assistance a chance to augment their monthly food budget through the pantry.
ECSU student Ashante Spruill was selected to lead the campaign under the guidance of the program sponsor, Dr. Jennifer Brown. Through a series of events, and working with specific deadlines, Spruill and other students worked with Dr. Brown to meet the requirements to compete in the overall competition.
"What an honor to know we now have resources to help more people," said Dr. Brown. "What I am most proud of is the growth and consistency that I have seen in our students getting behind a cause. Ashante and others have worked hard and invested in others. They've aimed for accountability and excellence, keeping great priorities, and setting a good example."
Since the Viking Cares Food Pantry opened last fall, numerous students have received needed help with monthly groceries. In addition to students, the pantry has also assisted the local chapter of the American Red Cross with its needs, supplying food to families hit hard by last year's hurricane season.
The pantry will also continue to assist members of the greater Elizabeth City community.
The ECSU team will be honored during a luncheon at the Food Lion headquarters in Salisbury, North Carolina on Jan. 28. The $10,000 check will be awarded to ECSU at a ceremony in February.
The Vikings Care Food Pantry is a division of the Sustainability and Resilience Board of Elizabeth City State University, and part of the North Carolina Campus Compact Initiatives. Donations can be made directly to the ECSU Foundation – marked Viking Food Pantry.
For more information, contact Russ Haddad at rghaddad@ecsu.edu, or Dr. Jennifer Brown at jjbrown@ecsu.edu.
---