ECSU Awarded $1.3 Million for Student 'Talent Search' Program
Posted On October 11, 2021
---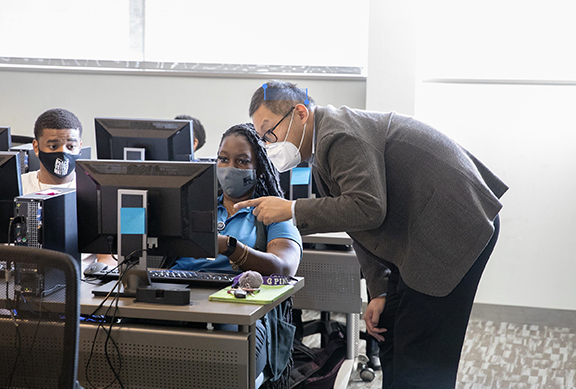 Elizabeth City State University has been awarded a $1.3 million grant from the U.S. Department of Education to implement the TRiO Talent Search Program, a program to assist middle and high school students from disadvantaged backgrounds to succeed in higher education.
"This is an exciting grant and supports ECSU's mission to educate future generations of students in Northeastern North Carolina," said the director of the Office of Sponsored Programs, Annemarie Delgado. "Antonio Rook, the grant's principal investigator, and Dr. Kim Stanley, the co-investigator, are to be congratulated for their hard work on this important grant and program."
The Talent Search program, according to Mr. Rook, is designed to give middle and high school students who would be first-generation college students the opportunity to gain academic knowledge and an understanding of financial aid and the college application process.
The program will provide students with financial literacy training, "that will ensure that they can make appropriate decisions regarding their financial future." A priority will be placed on STEM education due to, according to Mr. Rook, "a need to increase the number of students who successfully pursue degrees in science, technology, engineering, and mathematics."
The focus of this grant is also being placed on students living in disadvantaged counties within Northeastern North Carolina. Many of the students come from low-income households and would be first-generation college students and require mentoring and guidance to achieve success in higher education.
"We will be implementing services at schools for 500 students in Bertie, Beaufort, Tyrrell and Washington counties," he said.
Dr. Stanley says these students will receive the services through their schools and will be provided with tutoring and academic counseling through full time advisors. Staff, she said, will be employed to deliver instruction and other services to the students.
In addition to in-school services, the program will offer students a summer program. The program, to be held on the ECSU campus, will provide students with STEM academic and career guidance, and personal and social development programs.
Mr. Rook says this is a five-year-cycle grant and will fund the program through 2026. This is also not the first time ECSU has received the TRiO Talent Search grant. Mr. Rook says that the program was successful at ECSU in the past and he looks forward to future success in assisting first-generation college students in achieving their goals and dreams.
The Talent Search program is one-of-eight federal TRiO programs authorized by the Higher Education Act to help college students succeed in higher education. It recognizes that students whose parents do not have a college degree have more difficulties navigating the complexity of decisions that college requires for success.
Last year, ECSU was awarded $1.8 million for a TRiO student success program. That program aims to support student success efforts for first-generation Vikings currently enrolled at ECSU.
---