ECSU Aviation Science Graduate Justin Waddell's Aviation Dreams Lands Him on Airbus's Global Team
Posted On January 19, 2021
---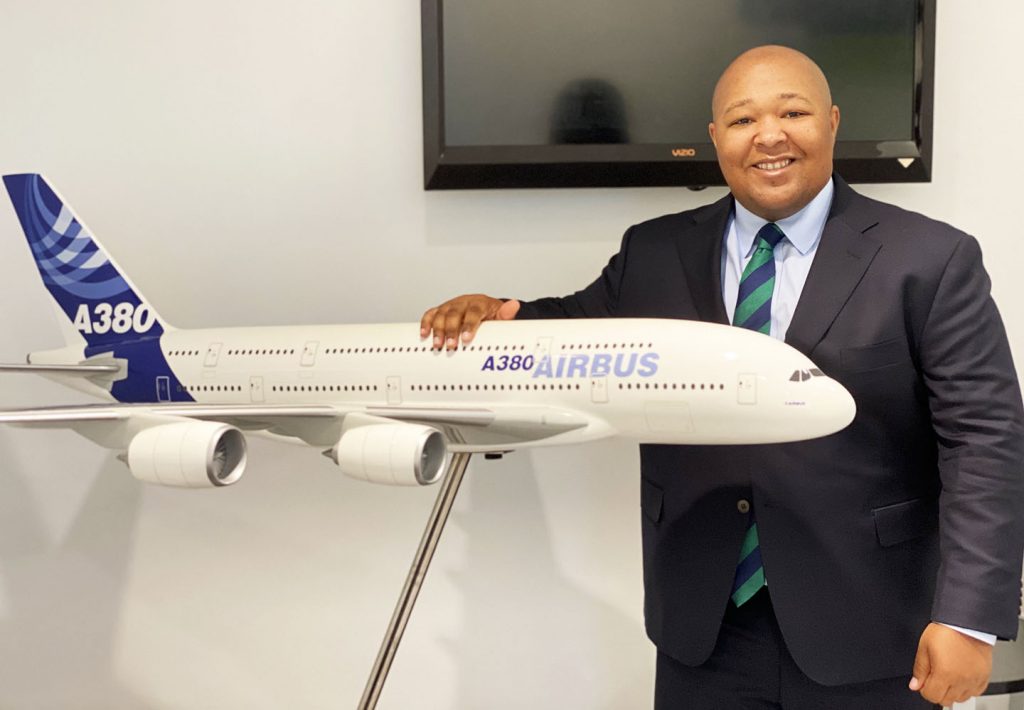 2014 ECSU Aviation Science graduate, Justin Waddell, stands in front of a model of an Airbus A380 at the headquarters of Airbus, his new employer.
The excitement in Justin Waddell's voice is palpable when he talks about his life-long love affair with aviation. The 2014 Elizabeth City State University aviation program graduate is fulfilling his dreams and now he's landed at Airbus as a technical program manager working for its clients around the world. 
Mr. Waddell was living in Ashburn, Virginia when he and his father visited the ECSU campus in 2009, contemplating whether or not he would pursue his career in aviation here, or elsewhere. He had looked at other universities and aviation programs, but once he got on a university recruiter's radar, and saw what ECSU had to offer him, the decision was easy for the now 30-year-old aviation professional.
"I got involved in the Model Scholars program," Mr. Waddell said of the summer program designed to prepare rising freshmen for campus life. That experience helped him begin to chart his future as an aviation science program student.
"I wanted to fly Medivac (helicopters) and I met Orestes Gooden (chair of ECSU's aviation and emergency management department). He was a former Navy helicopter pilot," said Mr. Waddell. "But somewhere along the line, I deviated and went into aviation program management."
Mr. Waddell's love of flight began as a child. He was fascinated with aviation and was encouraged by his entire family to pursue his interests.
His father, uncle, and grandfathers would help cultivate his love of aviation. He would be taken to airports to watch the planes take off and land and loved building model airplanes.
And his mother, he said, took him to a remote-control aviation club where he would learn to fly the gas-powered miniature airplanes.
All of that added up to a dream that someday he would fly. And while he does have his private pilot's license and loves to fly, it was a summer internship that would cause him to alter his course and send him into aviation management with big dreams.
"I got to see people who looked like me managing million-dollar budgets," he said. "If they could do it, I could do it."
Now Mr. Waddell had his sights set on working for the Federal Aviation Administration. And while he has yet to work directly for the FAA, he has worked directly with the government agency through his first employer, defense contractor SAIT.
That experience would lead to his recently appointed position with Airbus. Airbus, an international aviation corporation, not only produces commercial planes such as the world's most popular passenger jet, the A320, they also provide assistance to airports around the globe with "traffic flow management."
Mr. Waddell says the United States is considered the gold standard for air traffic flow management and numerous countries seek to emulate systems currently used in the industry here. In his role with Airbus, he is working with those countries to implement automation software that is designed to monitor an entire air traffic system.
His first assignment is working with the government of South Korea. The software will allow them to analyze air traffic activity, weather patterns, and more in an effort to maximize their efficiency.
"They want to do there what we have here," said Mr. Waddell.
As for his long-term goals, Mr. Waddell's voice reveals more excitement for his work as he describes his lofty plans for the future.
"Twenty or 30 years down the line, I would like to find myself the Secretary of Transportation or the FAA administrator," he says.
Those big goals came when Mr. Waddell met Secretary of Transportation under Pres. Barack Obama, Anthony Fox, back in 2013. The meeting with Mr. Fox was an opportunity he pursued and the weight of it left a lasting impression on Mr. Waddell.
"I thought, I want to be him," Mr. Waddell said of his meeting with Sec. Fox.
When he is able to return to his alma mater, and he gets the opportunity to meet current students, he tells them that being intentional with their goals is key to their success. There is a lot out there that "glitters" and can distract you, he said, but staying the course and knowing what you want will find you landing right where you need to be.
"Identify what you want to do and be very deliberate about what you want to do," he said.
For now, the COVID-19 pandemic has him working virtually. However, once the world is able to move past it, Mr. Waddell will be flying around the globe, living his aviation dream, knowing, he said, that ECSU helped shape his future and the man he is today.
---